A care worker has received a police caution after shocking hidden camera footage showed her repeatedly slapping an elderly woman with dementia in her own home.
Mega Nursing and Care confirmed it had dismissed employee Stacey George, 46, who was caught hitting Sabina Marsden, 78, at her house in Kettering, Northamptonshire.
In the footage, George is seen slapping Mrs Marsden and snatching her blanket from her legs.
At one point, she can be heard telling her: "You stink."
She told the Northants Telegraph: "Within 10 minutes of (my sister) leaving the house I was watching it on my phone and she slapped my mum four or five times."
Later, when challenged about the attack on camera, George is heard saying: "I didn't mean to upset you, I'm sorry."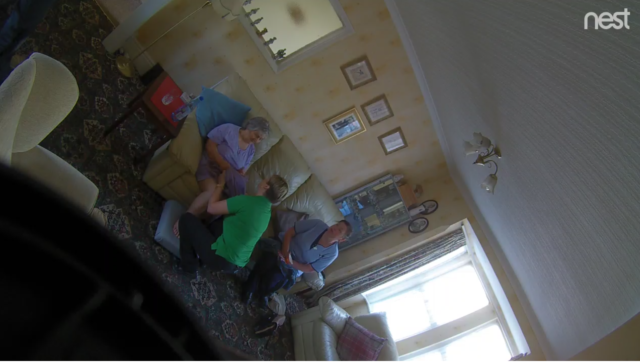 He added that a Care Quality Commission investigation had found that the company had put in place all prevention processes and procedures.
Mr Lawal said the company was also working with governing bodies to ensure George could not harm other patients.
In a statement, Northamptonshire Police confirmed it had investigated reports of an assault at a property in Kettering that took place on June 13 2017.
"After a thorough investigation and a review of all the evidence, a 46-year-old woman was issued with a police caution," a spokeswoman said.
Seatons, the law firm representing Mrs Marsden's family, said: "That the carer in this matter has been dealt with by way of a caution means that she has admitted the assault.
"Had this been a domestic assault, or if the victim had been a child, I strongly suspect that the assault would have elicited a much harsher, and in my view more appropriate, response from the criminal justice system."