The so-called Doomsday Clock has been moved to two minutes to midnight for the first time in 65 years.
The clock, which serves as a metaphor for global apocalypse, has been moved forward by 30 seconds by the clock's keepers.
The last time it was set so to this time was in 1953.
The countdown was established in 1947 by experts from The Bulletin Of The Atomic Scientists who were working on the Manhattan Project to design and build the first atomic bomb.
The Bulletin's chief executive Rachel Bronson said nuclear affairs were at the heart of their discussion this year.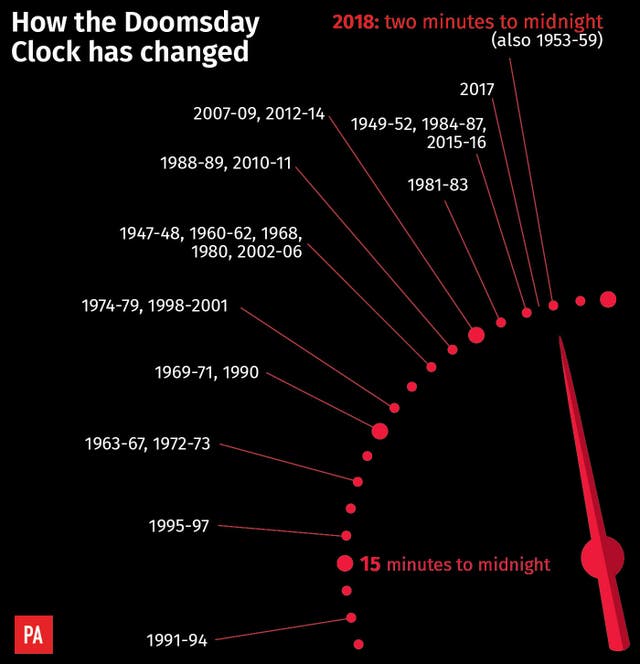 Originally intended to warn of the threat of nuclear Armageddon, the Doomsday Clock also takes into account the likelihood of other emerging threats such as climate change and advances in biotechnology and artificial intelligence.
She said: "To call the world's nuclear situation dire is to understate the danger and its immediacy.
"We considered the ossified state of armed control negotiations and non-proliferation agreements as well as new testing undertaken by North Korea, nuclear exercises built into Russia's military plans and enhanced commitment to nuclear weapons in Pakistan Indian and China."
She also cited the "lack of predictability" in the US's future plans for nuclear weapons as well as the "unpredictability embodied in the statements and tweets by the presidents of the United States" as some of the key factors in their decision-making process.
In a statement, the team said it also took into account the US's insufficient response to climate change – which involved the Trump administration's plan to withdraw from the Paris Agreement, the risks posed by emerging technologies – such as artificial intelligence, as well as loss of public trust in the media and the public institutions.
Over the years the clock's hands have moved forwards and backwards as the threats to the world changed.
In 2015, the clock was brought two minutes forward, taking it to three minutes to midnight. It remained unchanged in 2016.
Last year, the clock was set two-and-a-half-minutes to midnight.
At that time, the scientists described the world as "a more dangerous place than it was a year ago", referring directly to the election of US President Donald Trump, his views on climate change and alleged Russian cyber-hacking.
Robert Rosner, the Bulletin's Science and Security Board chairman, said: "We hope this resetting of the clock will be interpreted exactly as it is meant—as an urgent warning of global danger.
"The time for world leaders to address looming nuclear danger and the continuing march of climate change is long past.
"The time for the citizens of the world to demand such action is now."
The Bulletin is an independent non-profit organisation run by some of the world's most eminent scientists.