Labour leader Jeremy Corbyn said the NHS needs "urgent, urgent funding" and the nation needs a broad investment to help it become a more equal society.
Speaking to a party rally in central London and as the NHS this year celebrates its 70th birthday, he said: "The NHS needs urgent, urgent funding in order to stem the flow of people leaving, to fund social care properly and to ensure that when necessary that hospital beds will be open."
He said looking at ways to have a decent job offer and sustainable transformation plans was "a very important process."
He condemned the companies involved in delivering NHS services who end up "creaming off a profit in the process, often paying their staff different wages and conditions to NHS staff thus creating a different workforce in the same building and the inefficiencies that go with it."
Against a background of austerity, frozen wages, cuts, lack of housing and universal credit there is stress and homelessness in society, he claimed.
He added: "I don't want to live in a society that walks past the homeless and directs them towards a food bank. I want a society where we take pride in our ability to care for, support each other and invest in a growing economy."
Earlier Mr Corbyn had warned cabinet ministers their own local hospitals were strained to breaking point as he demanded an 'emergency budget' to bail out the NHS.
Labour suggested NHS England weekly winter statistics published on Thursday showed all 20 cabinet members have had dangerously full hospitals in their constituencies.
In a statement, Mr Corbyn said: "All 20 members of the cabinet's own constituencies have dangerously full hospitals, with patients stuck in the back of ambulances and on trolleys.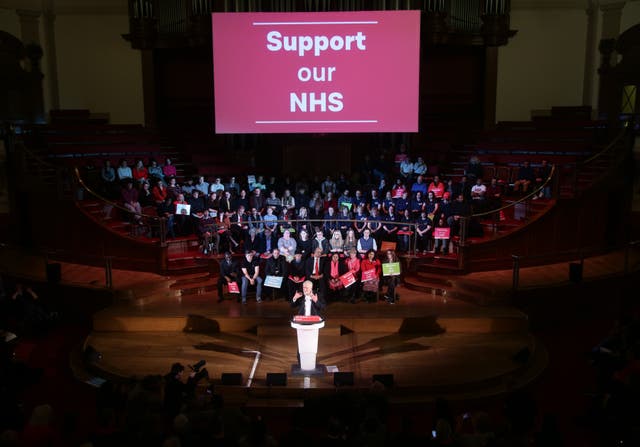 It followed a lively Prime Minister's Questions this week where he said Theresa May must act to "save the NHS from death by a thousand cuts" and pointed to allegations of patients dying or being harmed following ambulance delays.
Mr Ashworth hoped there would now be a groundswell to "pressurise the Prime Minister into heeding Labour's call for an emergency budget of £5 billion for our NHS."
He said: "Under the Tories, our NHS has been left underfunded, understaffed and overstretched. Despite the heroic efforts of our NHS staff, thousands of vulnerable patients have been left languishing on trolleys, stuck in the backs of ambulances and unable to receive the social care packages they urgently need."
Maria Caulfield, the Conservative MP for Lewes and nurse, said: "These claims have already been dismissed by the respected IFS (Institute for Fiscal Studies) and you only have to look to the Labour-run Welsh NHS to see what Labour deliver when they're in charge.
"Since 2010 we've increased NHS spending every year to a record high and we're training more staff, reducing waste and improving treatments.
"Only the Conservatives have a balanced approach that keeps our economy strong and means we can keep putting more money into the NHS so we deliver better care for people."