An animal park dedicated to breeding endangered species is celebrating the arrival of a fourth generation black baby rhino.
The three-week-old calf was born at the Port Lympne Reserve, in Kent, and posed for the camera for the first time on Friday.
His mother, grandmother and great grandmother were all born at the reserve and still live there.
Keepers at the park near Ashford set up CCTV camera in the rhino bedrooms to capture the moment he was born.
"As with all births, we were naturally cautious, so we set up cameras to ensure we could keep an eye on progress.
"The birth went really well and it's always rewarding for the team to watch such special events."
Director Simon Jeffery said the park was thrilled with the birth, adding: "He's strong, healthy, playful and curious.
"It won't be long now, before he's ready to venture outside.
"The birth is particularly significant for us, as his mother, grandmother and great grandmother were all born here, which means that we are actively helping to save and protect these incredible animals."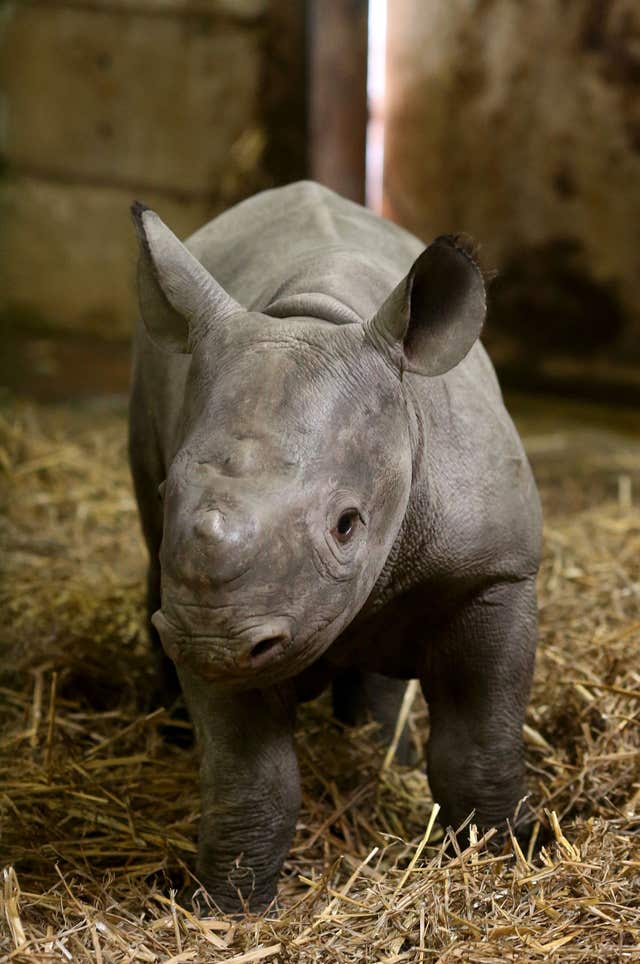 Two of the rhinos have since successfully given birth in the wild at their home on a protected reserve in Tanzania.
Mr Jeffrey added: "This youngster is not only significant for us but also for the species.
"Black rhinos are critically endangered and have been teetering on the brink of extinction in the wild as they are poached for their horns, which fetch colossal amounts on the black market in
Asia."
The park is home to more than 700 rare and endangered animals, including the largest herd of black rhino in the UK. Visitors can also see gorillas, tigers, lions, leopards, and bears.
It works alongside the Howletts Wild Animal Park in Canterbury and both with the help of The Aspinall Foundation.
As well as black rhinos, the charity has helped to breed other endangered species including gorillas, clouded leopards, gibbons and African elephants.