Theresa May is travelling to China at the head of a large business delegation, on a mission to bang the drum for investment in the UK as the country prepares for Brexit.
Speaking ahead of her departure on Tuesday, Mrs May said her trip would intensify the "golden era" in China-UK relations following President Xi Jinping's state visit to Britain in 2015.
Some 50 business figures flying with the PM include chief executives of major exporters such as Jaguar Land Rover, AstraZeneca and BP as well as small firms from across the UK and representatives of universities including Manchester and Liverpool.
Mrs May is joined for the three-day visit to Wuhan, Beijing and Shanghai by her husband Philip, on only the second time he has accompanied his wife on an official trip overseas.
In face-to-face talks with President Xi and Premier Li Keqiang, Mrs May will discuss the stand-off over China's nuclear-armed neighbour North Korea and call for closer UK-Chinese co-operation to address global challenges.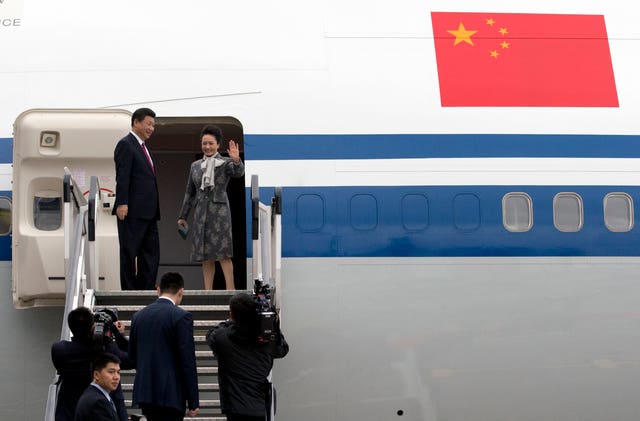 "There are huge trade opportunities in China that we want to help British businesses take advantage of," said Mrs May.
"That is why I'm taking a large multi-sector business delegation with me, representing all corners of the UK and sectors in which the UK excels.
"My visit will intensify the `Golden Era' in UK-China relations. The depth of our relationship means we can have frank discussions on all issues."
Mrs May said the relationship was already "broad and deep" and delivered "real benefits for both countries". British exports are up 60% since 2010 and China is expected to be one of the UK's biggest foreign investors by 2020.
International Trade Secretary Liam Fox, who will travel with the PM, said: "Trade between our two countries is already worth more than £59 billion and UK exports to China increased by over 25% last year.
"Our relationship is now more important than ever, as we look to form new trading bonds with the biggest-growing markets around the world.  Indeed, China's middle class is expected to number 600 million by 2020 – greater than the current entire population of the EU – presenting unrivalled opportunities for UK business.
"Together we are showcasing the best of British and promoting the UK as a great place to invest, creating further jobs and prosperity across the UK."
In a letter to the PM, the last governor of Hong Kong, Lord (Chris) Patten, and former Liberal Democrat leader Lord (Paddy) Ashdown, urged Mrs May to raise the plight of democracy activists in the former colony with China's Communist party leaders.
"In the past five years, Hong Kong has seen increasing threats to the basic freedoms, human rights and autonomy which the people were promised at the handover just over 20 years ago," they wrote. "These developments have been rightly criticised within Hong Kong and outside."
They said they hoped the PM would "be able to provide the people of Hong Kong with some assurance that our developing relationship with China, vital though it is, will not come at the cost of our obligations to them".