A former Brexit minister has challenged Theresa May to make it clear what sort of relationship she wants with the European Union after Britain leaves the bloc.
Lord Bridges of Headley said ministers had provided "no clear answers" on the UK's future relationship, offering only "conflicting, confusing voices".
He told peers he feared the Government would come up with "meaningless waffle" for its future relationship with Brussels, and that the implementation period would be "a gangplank into thin air".
His comments came on the first of a two-day debate in the Lords on the European Union (Withdrawal) Bill.
Labour former transport secretary Lord Adonis, meanwhile, proposed a rare motion of regret that the Bill, which aims to transfer European law into UK law, did not provide for a second referendum on the terms of the final Brexit deal.
Almost 190 peers are listed to speak over the two days of second reading, where the principle of the Bill will be considered.
Conservative peer Lord Bridges, who left the Government in July, said: "What is the country we wish to build once we have left the European Union?
"Only once we have answered this question can we properly and fully answer the second question – what agreement do we want to strike with the European Union? What do we value more, parliamentary sovereignty and control, or market access and trade?
"Four months on, and there are still no clear answers to these basic, critical questions. All we hear, day after day, are conflicting, confusing voices.
"If this continues, and ministers cannot agree among themselves on the future relationship the Government wants, how can this Prime Minister possibly negotiate a clear, precise heads of terms for the future relationship with the EU?"
"The implementation period will not be a bridge to a clear destination. It will be a gangplank into thin air."
Lord Bridges told peers that the Government cannot and must not "indulge in that very British habit of just muddling through".
He added: "The Government must be honest with themselves and the public about the choices we face.
"And then the Prime Minister and her Cabinet must make those choices.
"As has been said, to govern is to choose, and as we face the biggest challenge this country has faced since the Second World War, keeping every option open is no longer an option."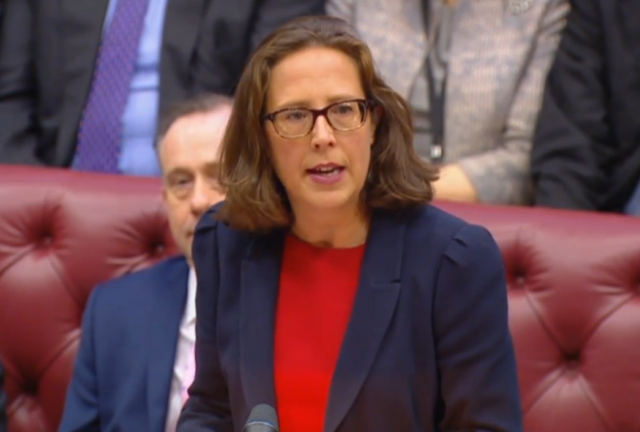 Ministers have previously committed to bringing forward amendments on this issue in the Lords.
She went on: "Some suggest that this House will ignore the referendum or attempt to use the Bill to frustrate the Brexit process.
"I don't share those concerns. I am keenly aware of the collective sense of responsibility felt across this House to our important constitutional role and I am confident noble Lords will take a constructive approach to our deliberations."
She added: "The time for slick soundbites to pacify extremists has long since gone.
"Instead of vague superficial statements of a 'Global Britain', 'Brexit means Brexit' and now the appalling 'Buccaneering Brexit', we have to deal with the reality and the nitty-gritty of the detail. That is the test for this Bill and the Government."