The Duke and Duchess of Cambridge may live in a palace but they have revealed like much of the country they have Ikea furniture at home.
The couple's admission came at the start of a two-day visit to Stockholm where they also showed their interest in something else popular in Sweden – the hockey-like game of bandy.
But despite Kate being an accomplished hockey player, who was a member of both her school and university teams, William triumphed in a penalty shoot-out, smashing in two goals to his wife's one.
The event staged in a freezing and snowy Stockholm park was a chance for the couple to renew their friendly rivalry as they kept out the cold in fashionable bobble hats with the duchess wearing a Burberry coat.
Kate's hat by Eugenia Kim caused a stir on social media with royal watchers claiming if featured fur but Kensington Palace later stressed the pom-pom on the duchess' headgear was faux fur.
When the couple later visited ArkDes, Sweden's national centre for architecture and design in Stockholm, Ikea's head of design Marcus Engman said they told him the flatpack furniture was in Prince George and Princess Charlotte's rooms.
He said the duke and duchess were very interested in both home furnishings and how the design process works at Ikea: "They also revealed that they have Ikea pieces for the children's rooms."
Mr Engman said: "I'm proud that we can suit everybody. That's what we want Ikea to be – for the many people of the world, both royalty and ordinary people."
He added they began by offering their condolences on the death of the firm's founder Ingvar Kamprad who died at the weekend aged 91.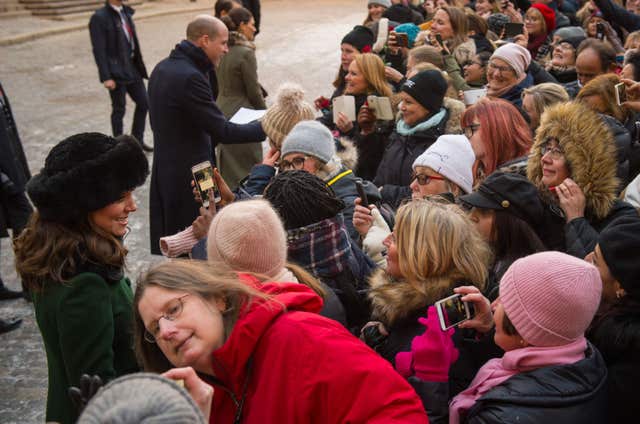 As William went to sit down the duchess, who had changed into a coat and dress by Catherine Walker, said "Don't break it".
The duke gave his opinion saying: "It's a great idea, with percussion you could have a whole orchestra in someone's house."
Earlier the couple, who are making their first official visit to Sweden, went on a walkabout after having lunch with Sweden's monarch Carl XVI Gustaf, his wife Queen Silvia and their family including Crown Princess Victoria and her husband Prince Daniel, who joined the duke and duchess for much of their day.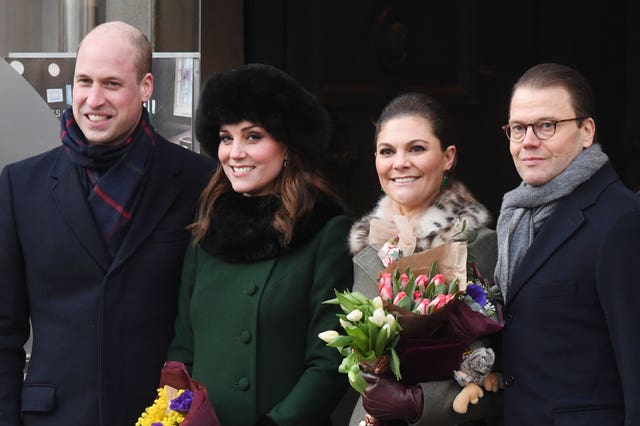 Some had waited for hours in sub-zero temperatures to meet the royals before they visited the Nobel Museum, to learn about the Nobel Prize.
Karin Wahlgren, 75, from the suburb of Jarfalla, handed over a special glove to William for him to use to wipe the paws of his dog Lupo's paws.
Ms Wahlgren said she told the duke: "You hold the dog with one hand and use the glove on the other to wipe him. He said: 'The dog always comes in with dirty paws it will come in handy.'"