Theresa May has announced new education links with China as she arrives for a three-day trip designed to boost trade after Brexit.
The visit comes amid doubts at home over the potential for deals with countries like China to replace economic growth lost due to Brexit, with leaked Government papers suggesting that the hit to GDP from EU withdrawal will only be partially offset by any new trade elsewhere in the world.
The Prime Minister said the visit was part of an effort to "reach out around the world" to secure agreements which will boost jobs and prosperity in the UK.
But she acknowledged that London and Beijing do not see "eye-to-eye" on a number of issues, and that forging a closer relationship was something that would take years to achieve.
She promised to raise the concerns of UK industry about over-production of steel and the protection of intellectual property against the piracy for which China is notorious.
Mrs May is travelling at the head of a 50-strong business delegation, including representatives of multinationals like BP and Jaguar Land Rover, small enterprises from around the UK and universities including Manchester and Liverpool.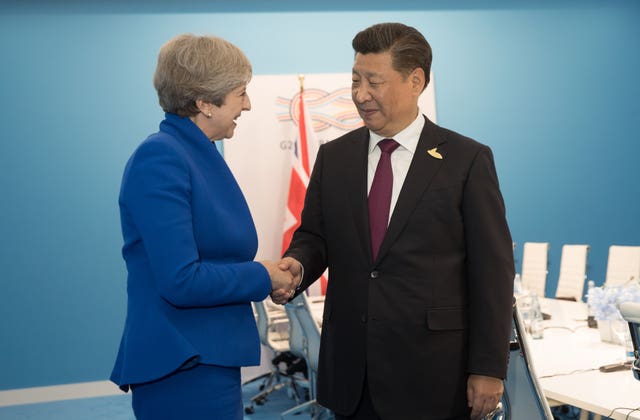 She announced new educational initiatives with China including:
1. Extension of a maths teacher exchange programme for a further two years to 2020, enabling around 200 English teachers to visit China.
2. Joint training of pre-school staff in the UK and China;
3. Improved information-sharing on vocational education;
4.  The launch of a new "English is GREAT" campaign to promote English language learning in China;
5. Education deals worth more than £550 million and creating 800 jobs in the UK, including the opening of 20 nurseries by Staffordshire-based Busy Bees in China.
Mrs May said: "In our increasingly interconnected world, any government that is serious about the economic prosperity and security of its people must have an international outlook, and must be prepared to reach out around the world and secure agreements abroad that ensure jobs and prosperity at home.
"For a global trading nation like the UK it is doubly important, which is why I'm travelling to China at a crucial moment in the history of both our countries."
China was expected to play a "huge role" in the economic development of the world, said the PM, adding: "I want that future to work for Britain, which is why, during my visit, I'll be deepening co-operation with China on key global and economic issues that are critical to our businesses, to our people, and to what the UK stands for.
"The UK and China will not always see eye-to-eye. But as partners committed to global free trade we can work together to confront and tackle challenges that affect all of our economies.
"So we will continue to look at what more can be done to tackle global over-capacity in sectors such as steel, and to ensure that, as our companies innovate and develop new products, they are confident that their intellectual property and rights will be fully protected."
But she added: "I'm confident that, as China continues to open up, co-operation and engagement will ensure its growing role on the global stage delivers not just for China, but for the UK and the wider world."
In a statement ahead of the visit, a Chinese Ministry of Foreign Affairs spokesman said Beijing saw Mrs May's trip as "an opportunity to achieve new development of the China-UK global comprehensive strategic partnership".
But asked whether the UK had achieved its aim of becoming China's closest partner in the West, he replied: "Co-operation can always be bettered. As to whether China and Britain have become the closest partners, we may need to wait and see how Prime Minister May's visit this time plays out."
Chinese nationals already make up the largest group of overseas students in the UK, with 155,000 currently studying in Britain and bringing in £5 billion a year to the educational sector.