Theresa May has announced a joint UK-China effort to strengthen international action against illegal wildlife trading.
The initiative, unveiled during the Prime Minister's three-day visit to China, comes after an "overwhelming majority" of more than 70,000 responses to a Government consultation backed a ban on the sale of ivory in the UK.
A new law came into effect in China on New Year's Day, making all trade in ivory and ivory products illegal.
The move was seen as a massive step forward for efforts to save the elephant, as the Far Eastern country has traditionally been a big driver of the demand for the animals' tusks to make ivory products.
Ahead of the 2018 Illegal Wildlife Trade Conference in London, the UK and China are pledging to share expertise in this area with countries in the southern African region.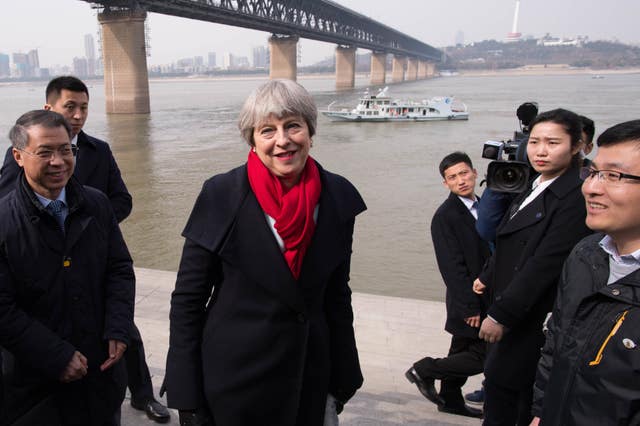 The Department for Environment, Food and Rural Affairs launched a public consultation in October last year on proposals to ban sales of ivory in the UK.
After one of the largest responses the department has ever seen, Environment Secretary Michael Gove said last month that it was clear the overwhelming majority were in favour of a ban.
Analysis of the consultation results is continuing, and a formal Government response will not come until it is complete
Mr Gove said then that he wanted the UK to be "front and centre of global efforts to end this insidious trade".
On Wednesday, Mrs May heard how efforts to reduce plastic pollution in the Yangtze River in Wuhan have helped restore the population of finless porpoises, assisted by experts from the Zoological Society of London.
The Prime Minister said: "My visit to China is about our two countries working together on some of the most significant challenges of our time.
"And during my visit I have seen first-hand the way UK expertise is supporting Chinese efforts to protect wildlife and improve the quality of life of its citizens.
"I am proud of the agreement that the UK and China have made to boost our co-operation in the fight against the illegal ivory trade.
"We have committed to using all the levers at our disposal to lobby for other countries to implement domestic bans and stamp out this abhorrent practice."
Wildlife campaigners believe 30,000 African elephants are killed by poachers every year, and reducing demand for their tusks is regarded as an important part of ending the carnage.