Michael Gove's proposed new laws to improve protections for animals appear to have been written in haste and are in a "far from finished state", according to a committee.
In a brutal assessment of the Environment Secretary's plans, MPs said the work had been rushed and warned that animals "deserve better than to be treated in a cavalier fashion".
Mr Gove published a draft bill in December that would enshrine animal sentience into UK law post-Brexit and introduce jail sentences of up to five years for animal abusers.
But the Environment, Food and Rural Affairs Committee said he should go back to the drawing board.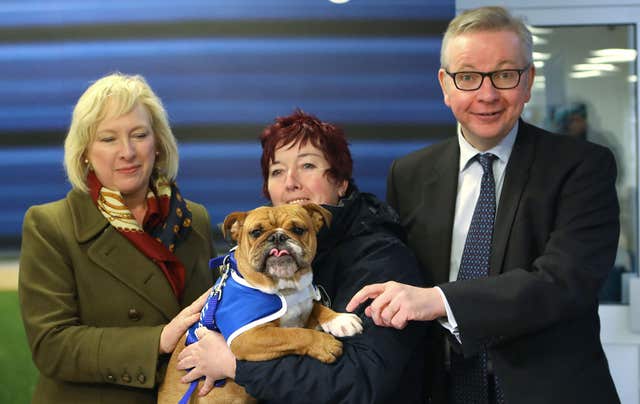 "They deserve better than to be treated in a cavalier fashion yet the impression given to us is one of haste," the report stated.
"It appears that this draft Bill has been presented to the public – and Parliament – in a far from finished state.
"Many of the key concepts in the Bill remain undefined, so limiting the value of our scrutiny, while the lack of a formal regulatory impact assessment is a further troubling matter.
"The absence of such a document further emphasises the impression that this legislation has not been properly thought through before publication."
The draft Animal Welfare bill says the Government "must have regard to the welfare needs of animals as sentient beings in formulating and implementing government policy".
It also increases the maximum prison sentence for animal cruelty from six months to five years in England and Wales.
But MPs said they were worried the "vagueness and ambiguity" of reforms around animal sentience would "impede and delay" tougher sentencing and called for the proposals to be separated into two bills.
Increasing sentences means more cases will go before the Crown Court, which is a slower process, the committee said.
It warned that will mean higher numbers of animals held in kennels for long periods of time, impacting their welfare and increasing the cost to the public purse.
Work should be carried out to find ways to alleviate potential problems, MPs said.
Committee chairman Neil Parish said: "It is important that the Government considers the full implications of a bill before publishing it. It has failed to do so in this case. The bill has been rushed and the legislation has suffered as a result.
"I am strongly in favour of the increased sentencing provisions in the Bill, but if the UK wants to set a 'gold standard' in animal welfare then the punitive measures for crimes against animals must include a greater range of offences.
"The UK urgently needs a new law focused on animal sentience but this law must be properly thought through and worked out. This legislation is not that."
A Defra spokesman said: "We are very grateful to the EFRA committee for their scrutiny of the draft animal welfare bill and are pleased they support the principles behind it.
"We will carefully consider their recommendations as we take legislation forward and will formally respond in due course.
"We will ensure the UK is a world leader in animal welfare, including by increasing sentences for animal cruelty and recognising animal sentience in law."