A woman at the centre of a rape trial involving two Ireland and Ulster rugby players has created a story to suit her case, a court has heard.
The complainant was being cross-examined by a barrister for Blane McIlroy, who is accused of exposure.
The lawyer also suggested to Belfast Crown Court that the woman's memory of events was fractured, frayed and ragged.
Arthur Harvey QC said: "You have a capacity to start off with a basic fact such as 'I was in the taxi' to create a narrative which you believe personally serves the case that you are seeking to make?"
Twenty-six-year-old McIlroy, from Royal Lodge Road, Ballydollaghan, Belfast, denies the single charge against him.
During further questioning, the complainant, who was in the witness box for a seventh separate day, admitted her recollection of the night was in parts "hazy".
Mr Harvey said: "There's not a narrative which is clear and precise."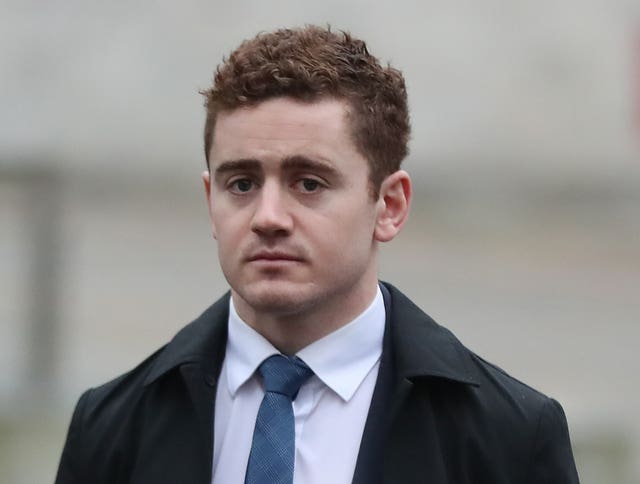 "There are moment that are slightly hazy."
No-one could be expected to remember everything from a night out, she told the court.
Three other men are also charged in connection with the incident in June 2016.
Twenty-six-year-old Paddy Jackson, from Oakleigh Park in Belfast, and his Ulster and Ireland team mate Stuart Olding, 24, from Ardenlee Street also in the city, deny raping the same woman.
Jackson denies a further charge of sexual assault.
Rory Harrison, 25, from Manse Road, Belfast, also denies perverting the course of justice and withholding information.
The trial has previously heard the alleged attack happened at an after-party in Jackson's home following a night in the VIP area of a Belfast club.
In a text to a friend the morning after the alleged rape, the woman described the girls' behaviour as "slutty", the court heard.
Mr Harvey said: "Did up tell (your friend) they were behaving in a slutty manner?"
The woman answered: "I cannot recall the exact words."
Probing further Mr Harvey said: "Is that what you thought?"
The complainant said: "There were a number of reasons.
"Yes, the behaviour is not something that I would have partaken in."
The defence barrister said: "Being upstairs in a bedroom indicates behaviour that's more proper than three girls taking selfies. Is that what you are saying?"
The woman responded: "Those are not my words. Those are your words.
"I am saying that I didn't want to take photographs sitting on those guy's knees."
The case continues.