There will be a fixed end date for the post-Brexit transition period during which Britain will follow EU rules, a minister said, despite critics highlighting a leaked Government document which suggests it could last "indefinitely".
Brexit minister Steve Baker insisted "there will be a fixed date" despite the leaked paper saying the transition's duration should be determined by how long it takes the Government to introduce measures needed for life outside EU rules.
Pro-EU Labour MP Chuka Umunna said the document obtained by Bloomberg represented the "final nail in the coffin of the idea that Brexit means 'taking back control'" as the UK does not set out an end date.
The Government is aiming for a transition period of "around two years" after leaving the EU on March 29 2019, during which it will follow Brussels rules to ensure businesses only have to adapt to one set of rule changes once a free trade deal is agreed.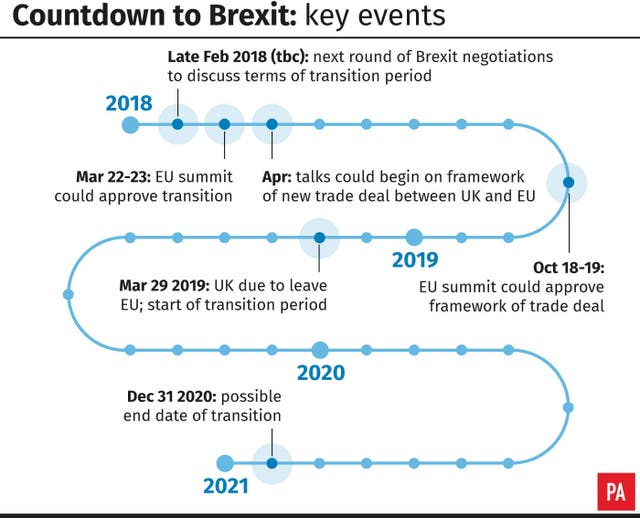 The Government has previously stated that the period should be "strictly time-limited" but an end date is not proposed in the document.
Instead it points to a desire to "discuss with the EU the assessment that supports its proposed end date" of December 31 2020.
But Mr Baker insisted a date will be agreed.
He told BBC Two's Daily Politics: "I'd be quite happy for us to have the minimum period necessary to get out successfully into the new arrangements but that is a matter to negotiate with the European Commission.
"You can see that they want us to exit at the end of the budget period, the Prime Minister is suggesting two years.
"But what will be the case is, when we've agreed, there will be a fixed date."
"It appears the Government wants transition to last indefinitely – a never-ending road to nowhere because the Cabinet can't agree on our future trading relationship with the EU .
"As new facts like these continue to come to light, and as the harsh realities of Brexit become clearer, everyone is entitled to keep an open mind about whether it's the right path for the country. We should not be leaving the EU if we don't know the end destination of Brexit."