Challenger suppliers have topped an annual customer ranking of energy companies but overall satisfaction has dropped for the first time since 2011.
Octopus Energy took first place for overall customer satisfaction with a score of 96% after being included in the uSwitch.com report for the first time after launching in 2016.
Small suppliers swept the board in the 12th annual ranking, achieving some of the highest scores ever recorded, while the big six companies languished at the bottom of the table.
However overall satisfaction fell 2.5%, with Scottish Power the only company included in previous surveys to improve its score.
Bulb, another supplier appearing for the first time in the ranking, took second place with a score of 92%, followed by Utility Warehouse.
Ovo Energy, which topped the ranking for the the last three years, suffered a 9% drop in its overall score to fall to fourth place.
Npower is the lowest ranked supplier for overall customer satisfaction for the 10th consecutive year with a score of 65% but saw the biggest improvement in customer service with a 4% increase.
The top seven suppliers this year all scored higher than any of the big six have ever managed, the poll of more than 17,000 energy customers by YouGov found.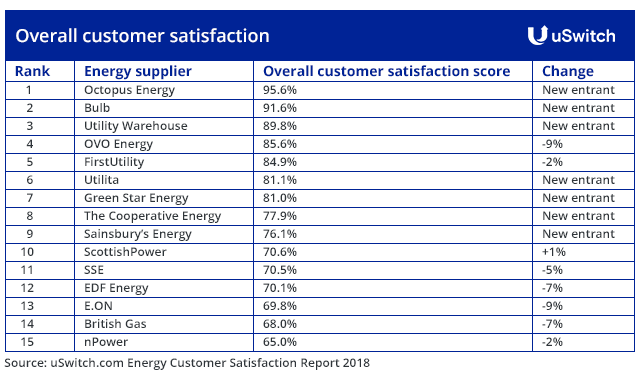 Claire Osborne, energy spokeswoman at uSwitch.com, said: "Following a year which saw widespread price hikes to poor-value standard variable tariffs, it's no surprise to find that consumers aren't as happy as they were before.
"But consumers are clearly impressed with what's on offer from challenger brands as an alternative to the larger and more established suppliers, demonstrating the level of competition and choice we see in the energy market today.
Chris Thewlis, customer services director at npower, said: "It's disappointing as we're currently receiving the second lowest number of complaints per 100,000 customers out of the big six and we've reduced complaints by 75% in the last four years.
"However, we're encouraged to note the results show we have the biggest year-on-year improvement of all suppliers in several categories, including customer service, billing and online services."