MPs have refused to sign-off the appointment of a Conservative peer chosen by the Government to become the new Charity Commission boss.
Tina Stowell does not have the experience, neutrality or capability to take on the top job at the watchdog, according to the Digital Culture Media and Sport Committee.
The former leader of the House of Lords failed to show any real insight about the charity sector and was unable to withstand scrutiny, it said.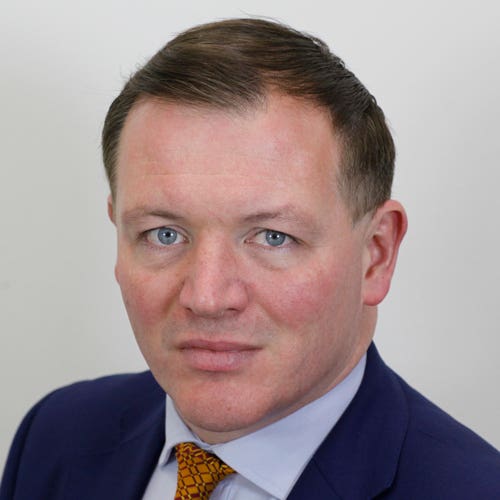 The Conservative MP said the decision had not been taken lightly but the committee was unanimous in its view.
"Baroness Stowell has little more than six months of negligible charity sector experience, and a complete lack of experience of working for a regulatory body," Mr Collins wrote.
"Baroness Stowell was unable to demonstrate to the Committee any real insight, knowledge or vision for the charities sector."
Baroness Stowell of Beeston, who was Lords leader until July 2016, was due to take over from Charity Commission chairman William Shawcross next week.
Mr Collins said her political past was a "source of concern for the committee and those within the charity sector".
He said it was the committee's judgment that "Baroness Stowell was unable to withstand scrutiny."
"Members asked fair questions that gave the candidate the opportunity to
demonstrate her knowledge, skills and experience," the letter said.
"Indeed, several members made proactive efforts to tease out relevant examples of her interest in, and vision for, the sector, and were disappointed to receive answers that were often lacking in detail or relevance."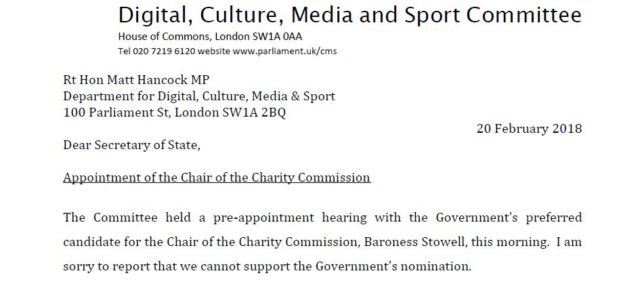 The committee attacked the "protracted" appointment process and said it "lacked transparency", calling for the names of the other candidates to be released as well as details of why the peer had been chosen over them.
Former MP Rob Wilson, who served as charities minister and has been outspoken about the sector, was reportedly interviewed for the role.
The committee also said it was "regrettable" that candidates for public roles continue to be drawn from a "narrow group of establishment figures".
It disputed the peer's claim to be a "veteran outsider".
Baroness Stowell became a member of the House of Lords in 2011 has served as a government whip and minister within the Department for Communities and Local Government.
Educated at a comprehensive school in Nottingham, she moved to London aged 18 to join the civil service and worked at the Ministry of Defence, the British Embassy in Washington and 10 Downing Street.
Before joining the Lords she was the BBC's Head of Corporate Affairs.
Culture Secretary Matt Hancock said the peer had his full backing.
He said: "I'm sure Tina Stowell will be a brilliant chair of the Charity Commission. This is a crucial time for the Commission and the sector. She was appointed after a fair, open and transparent competition. She was not only the best candidate for the job, but is the right candidate and has my full backing.
"Tina has been absolutely clear about her impartiality in this role. I know that she will work tirelessly to protect and promote the great work that charities do and ensure they uphold the highest standards of integrity."