Conservatives could lose control of flagship councils in London in local elections which are widely being seen as a test of Theresa May's leadership, according to a new poll.
The survey for the Mile End Institute at Queen Mary University of London suggested that Labour could be heading for the highest vote share of any party in council elections in the capital since 1968.
Jeremy Corbyn's party was favoured by 54% of those questioned, compared with 28% for Mrs May's Tories and 11% for Liberal Democrats, once "don't knows" were excluded.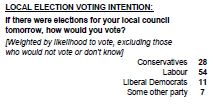 And QMUL's Professor Philip Cowley said the fallout from the Grenfell Tower fire tragedy meant Conservatives could not be confident of retaining Kensington & Chelsea, while Liberal Democrats had hopes of snatching Kingston & Richmond.
The May polls are the first major political contest since last year's snap election, offering voters a chance to cast their verdict on the Government and its handling of the Brexit negotiations.
A bloodbath for Tories would increase pressure on Mrs May to prepare to hand over power to a successor.
However, the QMUL poll suggests that voters in London do not think Brexit should dominate the election, with 33% naming housing, 29% local services and 28% health as issues that will determine their vote, compared with 21% for EU withdrawal.
According to the poll, Labour leads the Conservatives in both inner London – where Mr Corbyn's party enjoys an advantage of 67%-17% – and the traditionally Tory outer suburbs, where the margin in Labour's favour is 47%-34%.
:: YouGov questioned 1,155 Londoners between February 12 and 15.