The uncle of an 11-year-old schoolgirl has been charged with her murder – as the child's heart-broken father paid tribute to his "shining star".
Unemployed Delroy Forrester, 51, was arrested after Jasmine Forrester was found seriously injured at a house in Wolverhampton in the early hours of Friday.
She died later in hospital with her family by her side, West Midlands Police said.
Her father Simeon Forrester paid tribute to his daughter, saying "my heart is broken", in a floral tribute left outside the address.
"Things will never be the same, my heart is broken. I will never forget you Jasmine – love, Dad.
"I will always love you!"
A police cordon remains in place at the semi-detached house in Kent Road where the girl suffered multiple injuries, including a serious head wound.
The girl's uncle, of Lower Villiers Street, Wolverhampton, has been remanded in custody and is due to appear at Walsall Magistrates Court on Monday.
Detective Inspector Ian Wilkins said: "We are continuing to support Jasmine's family at this truly tragic time.
"The family have asked for privacy and we really hope everyone can respect that wish.
"We are not seeking anyone else in relation to this incident, but if anyone has information please get in contact with us."
The youngster was found just before 1am with injuries, including stab wounds, after neighbours were alerted to a disturbance.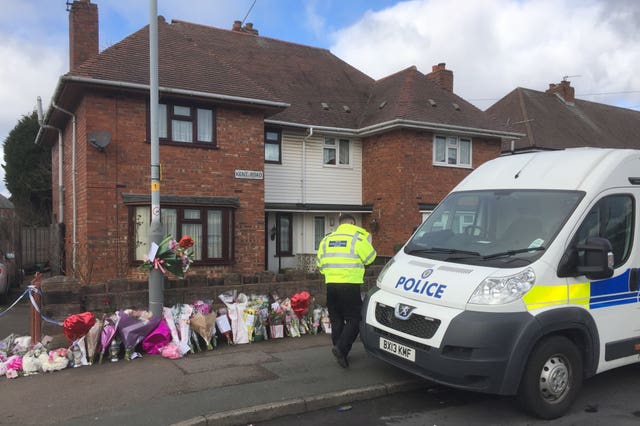 On Saturday, Jasmine's father said in a statement: "This is a hugely tragic time for our family and the loss we feel is unexplainable. We are utterly devastated.
"Jasmine was a shining star and a huge part of us."