Former football coach Barry Bennell has been found guilty of three further counts of sexual abuse.
The jury at Liverpool Crown Court found the 64-year-old guilty of three counts of indecent assault after deliberating for 21 hours and seven minutes.
Two of the verdicts were reached by a majority of 10 to one and one was made unanimously.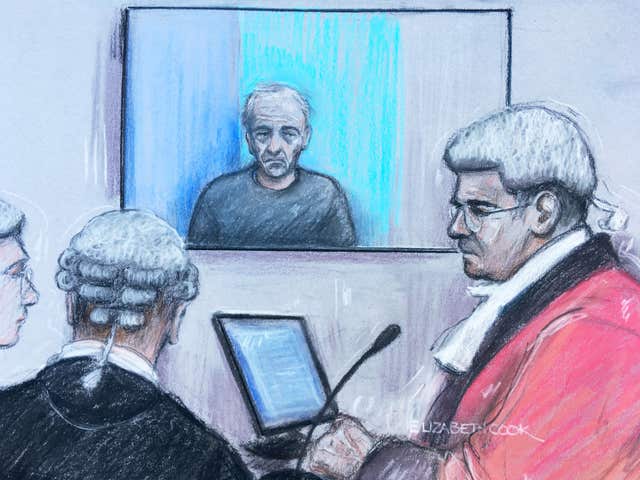 Bennell appeared in court via videolink from prison, wearing a green jumper over a purple polo shirt and appeared to be muttering at times during the verdict.
The complainants sat in silence as the verdicts were read.
The jury has not yet reached verdicts on four counts of buggery in relation to one complainant but was asked by the Recorder of Liverpool, Judge Clement Goldstone QC, to continue to deliberate.
He said: "If you decide you cannot please let me know and I will discharge you from reaching verdicts on those counts.
"It's no reflection on you, whose work and industry on reaching 39 verdicts so far which can only be commended."
On Tuesday the former Crewe Alexandra coach and Manchester City coach was convicted of 27 counts of indecent assault, seven counts of buggery and two counts of attempted buggery.
Before the trial he pleaded guilty to seven counts of indecent assault involving three boys, two of whom were part of the trial.
During the trial, the court heard Bennell compared to the Child Catcher from Chitty Chitty Bang Bang as he invited boys to his house where he had arcade games, a pool table, videos and exotic pets including a puma and a monkey.
In his closing speech, Nicholas Johnson QC, prosecuting, said: "We suggest Mr Bennell is a child molester on an industrial scale and that's why he went to these lengths to get so many lads round to his house."
In transcripts of police interviews which were read in court, Bennell, who has changed his name to Richard Jones, told the police about his grooming process and abuse of boys, but claimed the complainants in the case were "jumping on the bandwagon" following publicity.
He chose not to appear in the witness box and no evidence was called by the defence.
Eleanor Laws QC, defending, described Bennell as a "sitting target" and asked jurors to put their "understandable potential revulsion" aside when considering verdicts.
One of Bennell's victims, who he had pleaded guilty to abusing in 1998, previously told the jury he knew of four men who had been coached by Bennell, including former Wales manager Gary Speed, who had gone on to take their own lives.
But the jury was later told there was no evidence to link their deaths to Bennell.
Bennell has served three previous jail terms, totalling 15 years, for child sex offences against 17 young boys.