A former Stormont health minister has said it should be an offence for doctors to deliberately withhold information.
Jim Wells pledged in 2015 to introduce a statutory duty of candour over patient safety. Within months he was forced from office and said he remained very bitter that allegations were "fabricated" against him.
Making the responsibility to be candid legally binding on health professionals was the primary recommendation of this week's Hyponatraemia Inquiry led by chairman Sir John O'Hara QC into the deaths of five children during hospital treatment.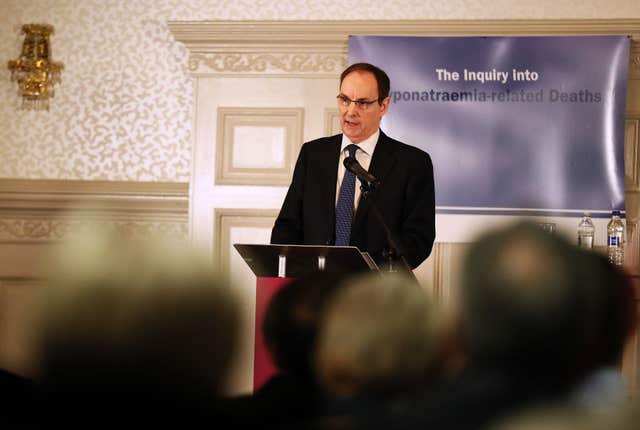 "People had information which could have given answers and would have given the families some comfort and that information was deliberately withheld.
"That under what I was going to suggest (in 2015) would have effectively made it a criminal offence and that would have concentrated the minds of various clinicians who circled the wagons."
Sir John heavily criticised the medical profession after finding that failures in patient care had been covered up.
The inquiry report urged medics to stop putting their own reputations first.
Mr Wells, a DUP Assembly member, said inquiries should be more focused and less complex in future.
He said he remained bitter about his ousting from office.
"I would love to have stayed long enough to have pursued this issue and here we are now three years later and there still is not the statutory duty which I think could have created an atmosphere where a lot of this may not have happened," he said.
"This whole inquiry has been a very bitter experience for the health service and has unveiled a culture and an attitude at the time which was very, very unhealthy."
He said the principle had been established in Great Britain that this duty of candour was going to happen.
The South Down Assembly member said there should be lessons learned from the aircraft industry where there is a statutory duty on aircrews to make mistakes public to prevent them from recurring.
He said the health of children was just as if not more important.
He added: "What must be particularly hurtful for the families is that this could have been avoided, some of these deaths could have been avoided, the Roberts case, the Ferguson case.
"Often when you make a mistake you at least make certain that the parents get some comfort from the fact that you have been open and honest and explained exactly what went wrong."
The Hyponatraemia Inquiry delivered its findings on Wednesday. It examined the deaths of five children, finding that four of them were avoidable.