Chagos islanders forcibly removed from their home in the Indian Ocean decades ago have suffered defeat in the latest round of their long legal battle over their exile.
The UK's highest court dismissed an appeal on Thursday following a hearing in London last year.
Former inhabitants removed by the UK Government to make way for a US Air Force base sought a ruling that a decision to create a marine park around the British-controlled islands was for the improper purpose of preventing their future resettlement.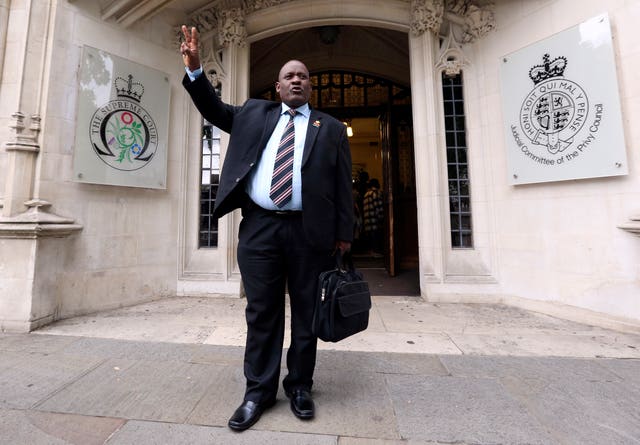 Olivier Bancoult, the Chagossians' leader, has been fighting in the courts on behalf of the islanders for decades.
In the latest challenge at the Supreme Court, he wanted to overturn a Court of Appeal ruling that there was no improper motive behind the marine park, which includes a ban on fishing – a crucial issue if the islands are to be resettled.
But five out of seven justices dismissed Mr Bancoult's appeal in relation to the "improper ulterior motive" aspect of his challenge.
The panel of judges unanimously rejected a second limb of his case against the Foreign and Commonwealth Secretary in which he argued that the consultation which preceded the decision to establish the marine park was "flawed".
Nigel Pleming QC, for Mr Bancoult, chairman of the Chagos Refugees Group, told the Supreme Court last June that the islanders "are not opposed at all to the environmental protection for their homeland".
But they were "strongly against" the no-fishing element of the 250,000 square mile marine protected area (MPA).
The move brought to an end all commercial fishing including that carried out by Chagossians as owners and crew of Mauritian-registered fishing boats.
At the centre of the latest challenge was a classified US Government cable published by WikiLeaks, which the islanders said supported their case on "improper motive".
But the majority of the Supreme Court justices ruled that the exclusion of the cable in evidence during earlier court proceedings "could have had no material effect on the outcome regarding improper motive".
One of the justices, Lord Mance, said in a lengthy written ruling that the "sad history" had been told on a number of occasions, and the circumstances of the removal and resettlement of the islanders "has generated much national and now also international litigation".
The judge pointed out that on November 16 2016 the UK Government announced its decision to maintain the ban on resettlement.
"That decision is itself the subject of further judicial review proceedings, " he said.