Tuition fees in England are now among the most expensive in the world, the Government has admitted – so how does our system stack up against other nations?
Without a doubt, the move in 2012 to treble fees from £3,000 to a maximum of £9,000 pushed our funding system into a new arena – with costs becoming closer to that paid by students in countries such as the United States.
Compared with some of our nearest European neighbours, the cost to an English student of going to a UK university is heavy.
In Germany, there are no tuition fees for public universities for both domestic and international students, while in Denmark, higher education is free for EU students.
Meanwhile in the Netherlands, standard fees start at around 2,000 euro (about £1,700).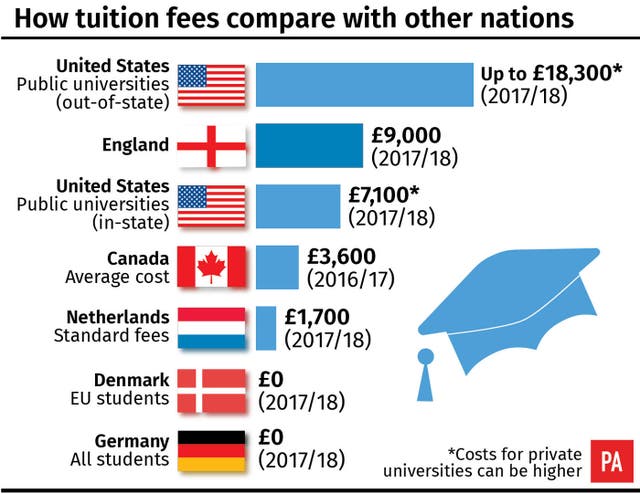 According to one estimate, on average, undergraduate students at Canadian universities paid 6,373 Canadian dollars (about £3,600) in tuition in 2016/17.
In the United States, it is widely held that tuition in expensive, but in reality, the costs can vary enormously based on factors such as whether the student is attending a public or private university, if they are going to an institution in their home state, and if they receive a scholarship.
Fees for public universities in 2017/18 ranged from an average of 9,970 US dollars (about £7,100) for in-state tuition and fees, to 25,620 dollars (about £18,300) for out-of-state tuition and fees, according to one estimate.
Costs for private universities can be even higher.
There are some signs that as the costs of going to university in England have increased, would-be students are looking overseas to see if they can get a better deal.
Latest figures for Maastricht University in the Netherlands show that for 2017/18 there were 349 UK students registered at the institution, compared with 312 in 2012 – the year tuition fees in England were raised, and 101 in 2010.
These figures also include post-graduate students.
In addition, data collected by the Independent Schools Council (ISC) last year shows that 5% of private school pupils who went on to university in 2016 chose to study outside the UK.
In comparison, the 2012 census shows that 2.8% of students were going to study for degrees abroad.