HSBC earnings have missed expectations despite the company more than doubling annual profits amid a renewed push in Asia.
The banking giant released figures which showed pre-tax profits jumping 141% to 17.2 billion US dollars (£12.3 billion) in the 12 months to December 31 compared with 7.1 billion dollars (£5.1 billion) a year earlier.
The lender said its focus on the Asian business "again contributed a substantial proportion" of group profits – driving around 75% of both reported and adjusted earnings – though results were also flattered by comparably lower figures in 2016 which were knocked by a loss on sale and trading results from the Brazilian operations it offloaded that summer.
While the figures marked growth from a year earlier, they came in below analysts' forecasts, sending shares down nearly 4%.
It is the last set of results under chief executive Stuart Gulliver, who is set to hand over the reins to John Flint on Wednesday.
The bank's annual report showed Mr Gulliver enjoyed a 7% rise in his pay packet that pushed his annual salary back up past £6 million – having seen it drop from £7.3 million to £5.7 million a year earlier.
He is set to continue to receive his current salary of £1.25 million, a fixed pay allowance of a further £1.7 million, cash in lieu of a pension allowance as well as contractual benefits until his official retirement in October 11.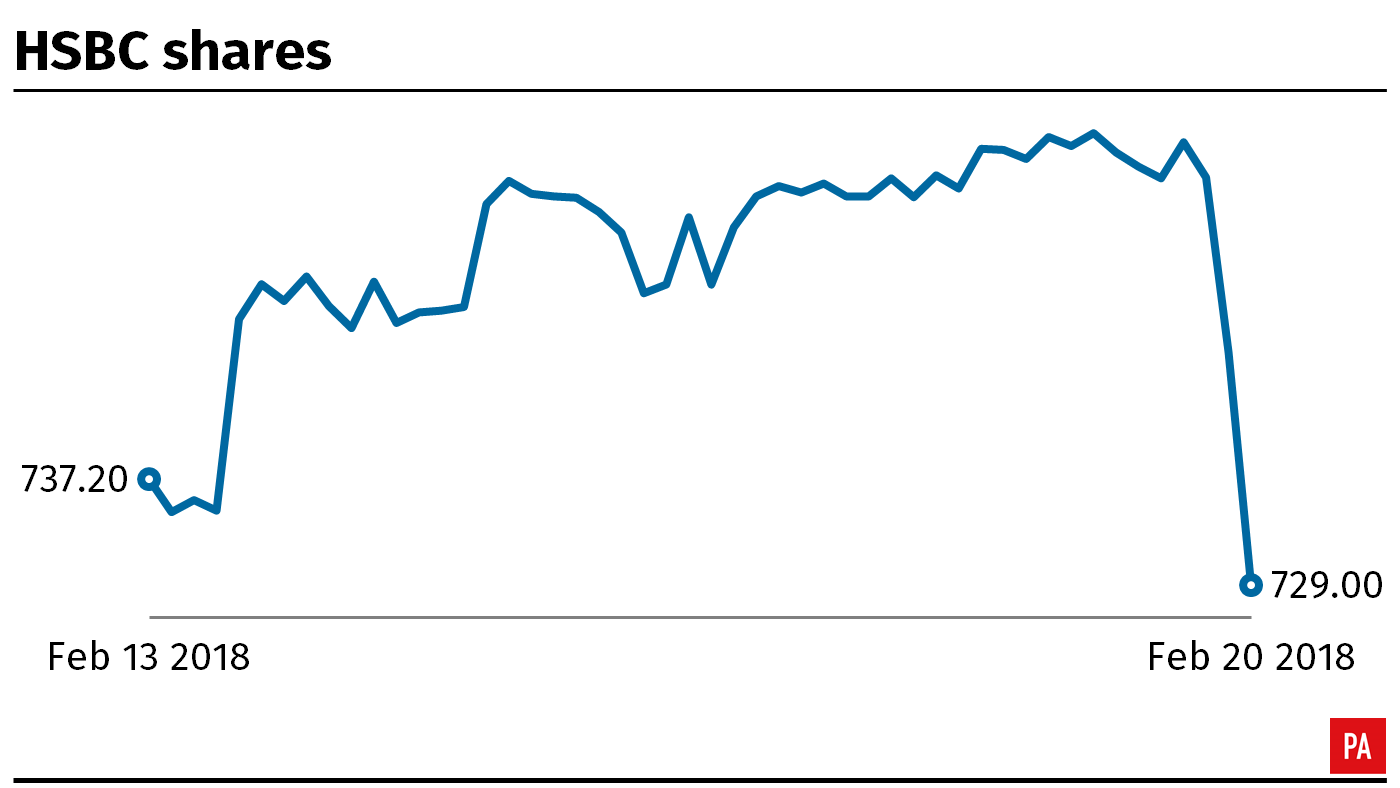 Neil Wilson, a senior market analyst at ETX Capital, said: "Overall you have to call this a strong performance from HSBC but falling short of fairly lofty expectations means the stock looks set to fall."
While the overall results were "not as firm as anticipated", Mr Wilson said there were "clear signs the bank is beyond recovery phase now as Stuart Gulliver heads off on his travels".
It also booked 28 million dollars (£20 million) in "costs associated with the UK's exit from the EU", largely accounting for legal costs linked to planning and regulation.
As part of its Brexit contingency plans, HSBC is on course to move up to 1,000 jobs to France where it already has a full service universal bank after buying up Credit Commercial de France in 2002.
HSBC also detailed a 500 million US dollar (£357 million) loan impairment charge at its global banking and markets division in its strategic report, which it said was "related to two large corporate exposures in Europe".
The names of the companies in question were not detailed, but it is understood that Carillion was one of the two firms leading to the charge.
HSBC declined to comment.
Lenders are being closely watched this week for signs that they have taken a hit from construction and outsourcing giant Carillion, which collapsed last month.
HSBC's report kicks off a string of banking earnings, with the likes of Lloyds Banking Group, Barclays and Royal Bank of Scotland to follow with their own set of full-year results later this week.