Motorists on a major link to the Channel Tunnel and Dover port have been experiencing miles of tailbacks after a body was found on the road and a later collision forced police to close the M20 in both directions.
Officers were called to the London-bound carriageway between junctions 10 and nine, near Ashford, Kent, at 6.05pm on Tuesday after a body was found. The person was pronounced dead at the scene.
Then at 8am on Wednesday, four cars and a lorry were involved in a collision on the coast-bound carriageway, forcing it to be closed to all traffic. It has since reopened.
The driver of the lorry, a 42-year-old man, has been arrested on suspicion of dangerous driving and remains in police custody.
A woman was airlifted to a London hospital with injuries and a man was taken to a local hospital following the crash.
Witnesses at the scene said they had been at a standstill for about two-and-a-half-hours.
By 10.30am on Wednesday, drivers were experiencing six miles of queues back to junction 11 on the London-bound carriageway and the road closure was affecting travel to the Eurotunnel and the Port of Dover.
The Kent and Essex Serious Crime Directorate, which investigates incidents including murder and organised crime, is working with road collision investigators to determine the cause of death in the first incident, which is currently being treated as unexplained.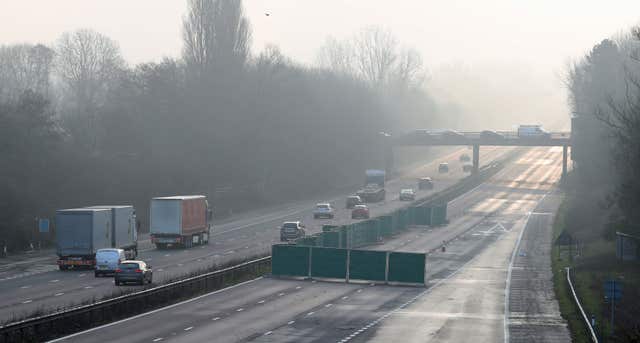 "I would also ask motorists who used the M20 after 6pm on Tuesday to contact us if they believe they experienced anything unusual whilst driving and check their cars for signs of a collision.
"We do not underestimate the impact that closing this stretch of the motorway has on people and I thank them for their patience. It is crucial that we ensure that all evidence is collected. As soon as the motorway is reopened the opportunity to collate potentially crucial information is lost.
"We are working tirelessly at the scene and I am hopeful a lane of the M20 will be re-opened later today."
A large green screen has been put up where the body was found and a line of police officers wearing white protective covers on their feet has been seen slowly walking the stretch of the carriageway towards the screen while examining the surface.