A seal who got a frisbee stuck round her neck, causing a nasty injury, has been released back into the wild after she was nursed back to health at an RSPCA centre.
The Atlantic grey, nicknamed Mrs Frisbee, had become weaker and weaker as the plastic disc cut into her neck and was "nearly dead" when she was found at Horsey beach in Norfolk.
She was rescued by volunteers from the Friends Of Horsey Seals group and cared for at the RSPCA's East Winch Wildlife Centre near King's Lynn, Norfolk.
The centre's manager, Alison Charles, said Mrs Frisbee ballooned from 67kg (10 stone 7lbs) on admission five months ago to 180kg (28 stone 4lbs) on the day she was released.
"She's put a little bit of weight on, that's the joy of mackerel, absolutely amazing," said Ms Charles.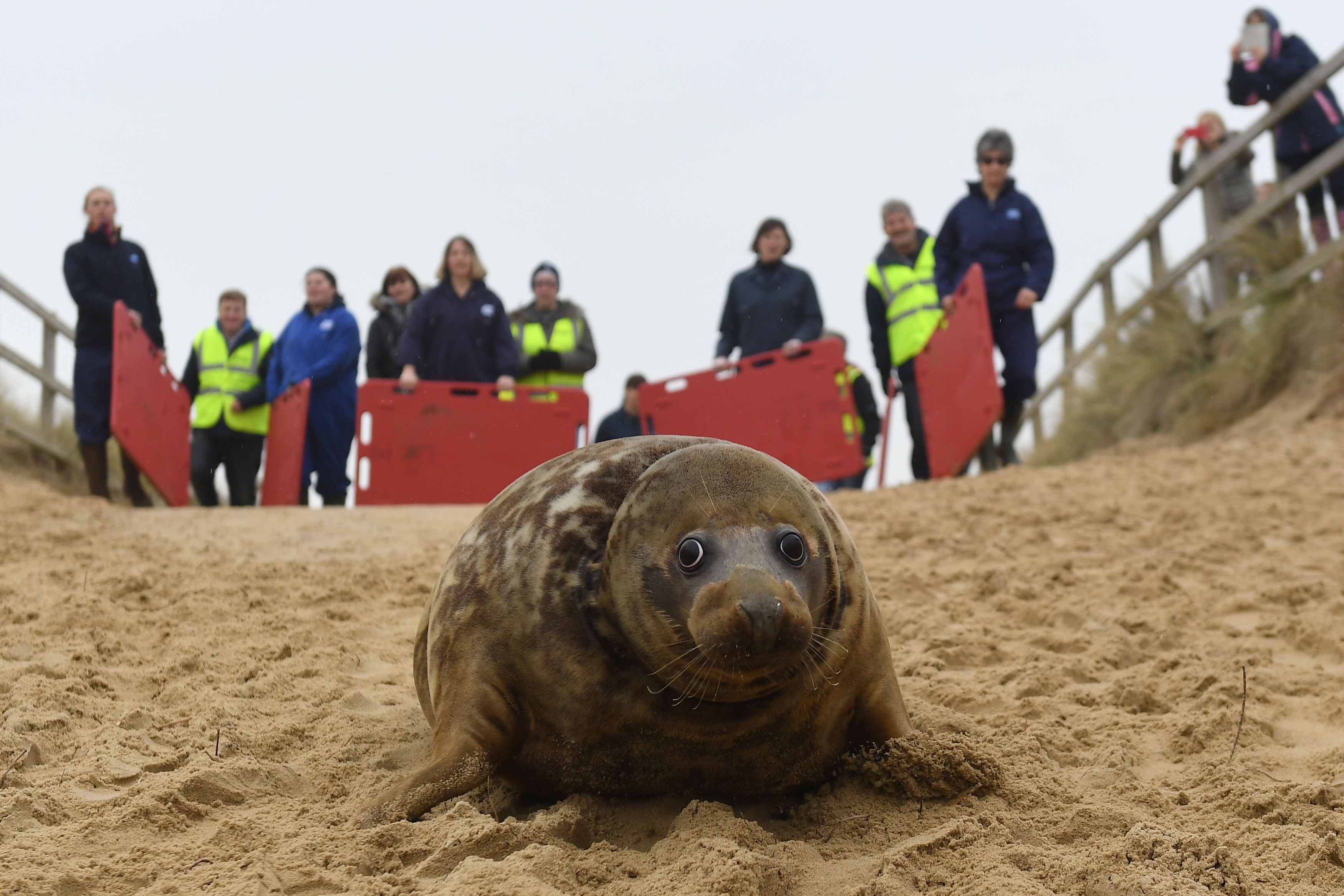 "I've never seen an injury like that and I've worked with seals for over 20 years," she said. "But we thought we'd give her a try with how she recovered on the first day.
"It's a minor miracle, she's done incredibly well, but it's a lot of hard work from a lot of people getting her fit and healthy."
It had become embedded, and Ms Charles said the seal's neck extended "like a concertina" once the disc was removed.
She was given antibiotics and steroids, and was eating mackerel by the next day.
Staff kept the wound clean and Mrs Frisbee made her recovery, before being released on the beach at Horsey in Norfolk on Wednesday, where she bounded into the sea.
"It's taken a long long time but she's finally come good," said Ms Charles. "She's got a heck of a scar on her because of how extensive her injury was but she's brilliant."
It comes as the RSPCA has launched an appeal for donations as record-breaking numbers of sick seals have arrived at its wildlife centres, up from 262 in 2016 to 350 in 2017.
More than 140 seals are currently being cared for at the charity's four centres in Somerset, Cheshire, Norfolk and East Sussex, and it costs £14,000 per month on mackerel alone.