A homophobic neo-Nazi terrorist has been found guilty of plotting a machete attack on a pub's gay pride night.
Armed police swooped on 20-year-old Ethan Stables as he walked towards the New Empire in his home town of Barrow-in-Furness, Cumbria, last summer.
Officers had received a tip-off from a member of a far right Facebook group where he posted a message saying he was "going to war" and that he planned to "slaughter every single one of the gay bastards".
He was unarmed when he was arrested on June 23, but police found an axe and a machete at his home, his trial heard.
The jury was shown a video of him burning a rainbow flag and posing next to a swastika hanging on his bedroom wall.
He had espoused homophobic, racist and Nazi views online, the court was told.
Giving evidence, Stables, who has been diagnosed with Asperger syndrome, claimed he was a just fantasist and was himself bisexual.
Following his conviction, his barrister Patrick Upward QC told the Recorder of Leeds, Judge Peter Collier QC, that Stables led a "melancholy life" up to the day of his arrest and lived in "almost squalid conditions".
He said: "It's difficult to imagine how loneliness and separation from others can affect people. With hardly a friend in the world and reliant on communication with others scattered around the globe from a wall outside the job centre in Barrow-in-Furness, no matter what the season or time of day."
He said Stables's problems could have made him an "open goal" for people who who "peddle the sort of ideas that he adopted".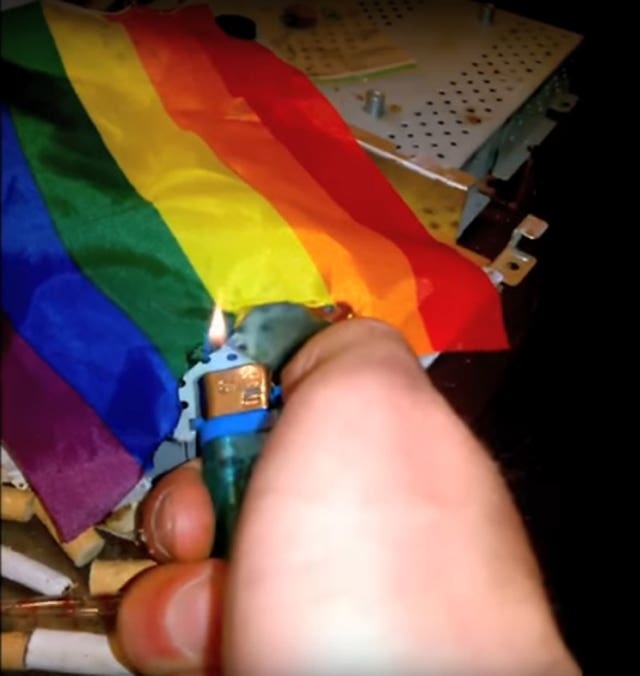 "He bears no comparison with the men who attacked Corporal (Lee) Rigby, no comparison with the men who went on the rampage at Borough Market and no comparison with the man who ran people over on Westminster Bridge and stabbed a police officer.
"Whatever he was doing that night, he did not have a fuse to set it off. He did not have the wherewithal to make the fuse."
Prosecutor Jonathan Sandiford told the judge that Stables had intended to attack multiple persons and had looked at a number of ways of doing it.
He said: "The reality is that there is clear evidence that he identified a target, had acquired a weapon and he had stated his intention to use a machete."
Judge Collier further remanded Stables in custody ahead of sentencing on Wednesday.
He told the defendant: "I do need to give this a lot of careful thought to come to an appropriate sentence."