A doctor told a judge there is "no hope" for seriously ill Alfie Evans as the 20-month-old's family try to block a decision to switch off his life support.
The consultant, who has treated Alfie at Alder Hey Children's Hospital in Liverpool, told a High Court hearing the child was unresponsive, not conscious of his surroundings and could not be cured.
He is in a "semi-vegetative state" from a degenerative neurological condition doctors have not been able to definitively identify.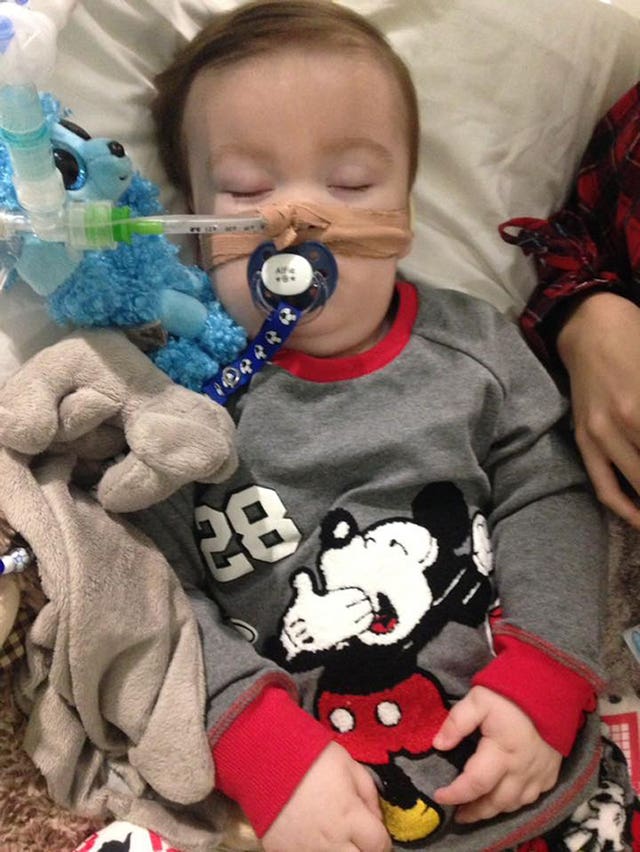 His medical team at Alder Hey believe to continue life support through ventilation is, "unkind, unfair and inhumane".
Parents Tom Evans, 21, and Kate James, 20, want him to be transferred abroad to undergo further treatment and operations for his condition.
They have sought medical advice from experts outside the UK and believe their son responds to them – but the court heard that any movements by the child are spontaneous seizures as a result of touching.
Mr Evans, who is representing himself at the hearing at the High Court in Liverpool, supported by a dozen family members, broke down on Thursday as the court heard experts say further treatment for his son would be "futile."
The consultant giving evidence during the second day of the hearing on Friday told the court: "When we see disease like this, this is one of the reasons people don't want to become paediatric neurologists because they are awful and it is not a word I choose lightly.
"There's no cure and no hope for a cure.
"This is one of the most difficult of all things, most difficult things for parents but also for professionals."
Michael Mylonas QC, representing Alder Hey, asked the witness about the medical team's conclusion that further life support should be stopped.
He said: "It is very easy to understand why the family are upset. They see that as withdrawing life for a child which will result in his death earlier than if ventilation continues?"
"It is a big step for me to recognise and accept that there's no hope for recovery and there's no hope for a meaningful life with a reasonable quality.
"Then the next step is, 'Is this wrong?' We have to consider the best interests of the child before you consider anything else. In the first instance our duty is to consider the best interests of the child."
Mr Justice Anthony Hayden, hearing the case, asked the witness of his assessment of Alfie's level of consciousness.
He replied: "I don't think Alfie is aware. I don't think he's conscious."
Earlier the hearing was told it was understandable that Alfie's family could not be blamed for "leaving no stone unturned" in trying to get him treatment.
But a "cohort" of world experts had come to the same conclusions that his disease was incurable.
The hearing continues.