Theresa May has sidestepped questions about rising Tory tensions on Brexit and calls for her to "sling out" arch Leavers by insisting her party is focused on "one very clear act" of leaving the European Union.
The Prime Minister refused to directly engage with a question on whether she would like vocal Brexiteers such as Boris Johnson and Jacob Rees-Mogg to be more circumspect, after pro-EU Tory MP Anna Soubry claimed the Government was "in hock to 35 hard ideological Leavers" like the pair.
The ex-business minister threatened to quit the party if the Brexiteers "take over", ratcheting up pressure on the PM ahead of Wednesday and Thursday's meetings of the Brexit "war cabinet" to discuss what "end state" relationship the UK will seek with its former EU partners.
Asked after a speech in Manchester if she would like Mr Johnson and Mr Rees-Mogg to "pipe down", and whether she feared a split in the party, Mrs May said: "The party and the Government are focused on one very clear act, thing that we have to do, which is what the British people asked us to do, which is to leave the European Union.
"Now we've set out a clear position in the Lancaster House speech, the Article 50 letter, the Florence speech, all of these show the same principles underpinning what we want to do when we leave the European Union, which is to ensure that we get a good deal for our trading in goods and services."
Mrs May is facing pressure to get the Cabinet to agree what it wants from Brexit and earlier Home Secretary Amber Rudd said she "hopes" the Government will be able to clarify its negotiating stance "within the next few weeks".
Ms Sturgeon told BBC Radio 4's Today programme: "We're seeing the Government yet again put the interests of the Conservative Party ahead of the interests of the country.
"It is overwhelmingly in my view in the interests of the country, our economy, to remain within the customs union and the single market."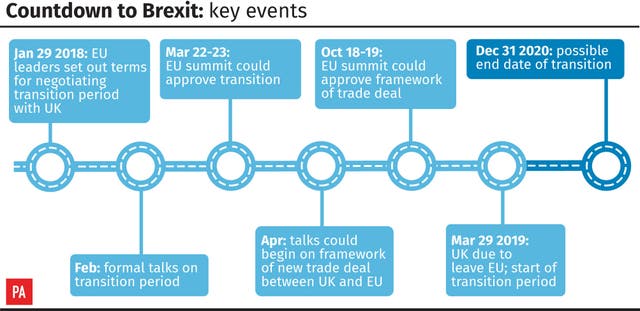 Ms Rudd said she planned to publish an immigration white paper by the end of the year, but stressed a post-Brexit implementation period of around two years during which EU citizens will be free to live and work in the UK reduced the urgency.
She went on: "I completely understand businesses want to know, of course people want to know what is taking place post-'21 but if I put that in terms of the timeline, that does reduce the urgency."