Scotland's under-fire chief constable has said it would be "impossible" for him to resume policing duties as he resigned from the post with immediate effect.
Phil Gormley had been on special leave since September amid investigations into claims of gross misconduct.
Justice Secretary Michael Matheson said he hoped Mr Gormley's departure would allow the force "to move forward".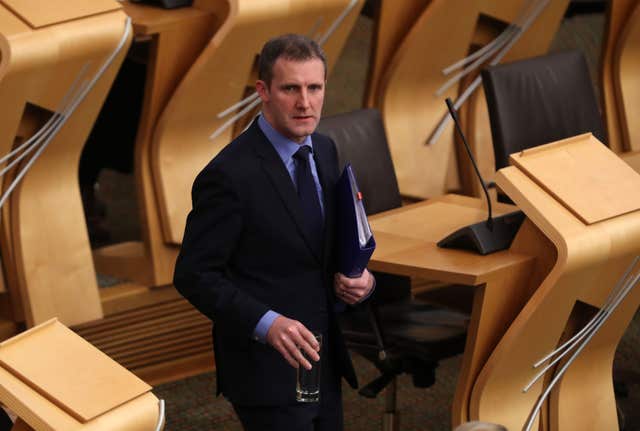 The independent Police Investigations and Review Commissioner (Pirc) had received five misconduct referrals regarding Mr Gormley from the Scottish Police Authority (SPA), the police oversight body.
Mr Gormley has always denied any wrongdoing.
In a statement he said "events since November 2017 have led me to the conclusion that it is impossible for me to resume my duties in a meaningful way prior to the end of my contract".
He added: "I now need to prioritise the health and well-being of my family on whom these events have taken a significant toll."
Mr Gormley had been told by the SPA in November that he could return to work, but that decision was reversed after the Justice Secretary questioned "clear deficiencies" in the body's decision-making process.
Mr Matheson was heavily criticised by Mr Gormley's lawyer David Morgan, who said there was "no lawful basis" for the intervention.
In a statement at Holyrood, he said: "I respect the decision of the chief constable and hope this enables policing in Scotland to move forward with a clear focus on delivering the long-term strategy Policing 2026 that Phil Gormley helped to develop.
"I've spoken with Susan Deacon, chair of the Scottish Police Authority, which will undertake the process of appointing a new chief constable.
"Professor Deacon informed me yesterday that the SPA were in discussions with the chief constable's representatives regarding his future and provided assurance that the appropriate process was being followed."
He added: "I am very clear that my actions in questioning the SPA on November 9 were entirely appropriate, indeed were expected of me."
Scottish Conservative MSP Liam Kerr called on Mr Matheson to "acknowledge his part" in Mr Gormley's decision, and "do the decent thing and follow the former chief constable out the door".
"Mr Gormley has said that it was the events of and since November last year, when the Cabinet Secretary interfered in the SPA's decision, that made it impossible for him to continue," he said.
Labour's Daniel Johnson described governance of policing as "a shambles", and called on Mr Matheson to address whether his actions may have "prejudiced the chief constable's return".
"The Cabinet Secretary may want to draw a line after today's resignation, but the chief constable refers directly to events of November 2017," he said.
The SPA said Mr Gormley was not required to work his contractual notice period.
He will receive a payment in respect of his salary for his three-month notice period and his outstanding annual leave entitlement.
Pirc said all misconduct investigations regarding Mr Gormley will now come to an end, and reports containing the information gathered to date will be submitted to the SPA.
Deputy Chief Constable Iain Livingstone said: "On behalf of everyone at Police Scotland, I would like to thank Phil Gormley for his contribution to policing and wish him and his family well for the future.
"The last few months have been a difficult time for Police Scotland and for many individuals.
"My focus, and that of all officers and staff, will remain on day-to-day policing and serving the people of Scotland as we go forward."