The fate of talks to salvage powersharing at Stormont is too close to call, Gerry Adams has said.
The Sinn Fein president said gaps remain between his party and the Democratic Unionists, and the negotiations continue to be a work in progress.
The DUP offered a similar assessment of the state of play, insisting there were still "a lot of gaps".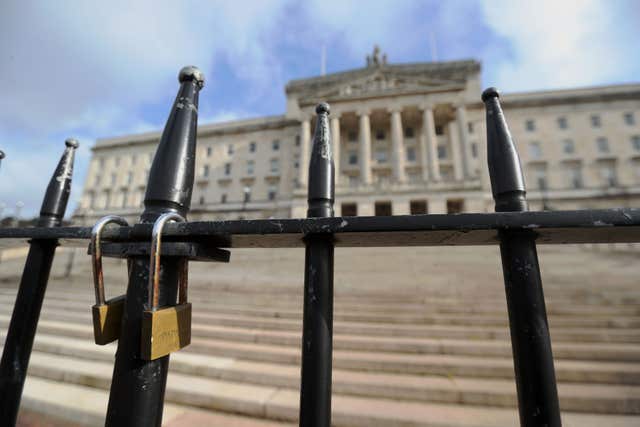 "It would be wrong to call it either way. There are still gaps. I would like to see it up and running again for the sake of the people."
A spokeswoman for the DUP said: "Our team have been working constructively to get devolved government restored. Northern Ireland cannot continue without ministers in place to make decisions.
"Our negotiating team has made progress, but there are still a lot of gaps and more work to be done."
Northern Ireland has been without a functioning administration for over a year after the last DUP/Sinn Fein-led coalition imploded in a row over a botched green energy scheme.
That rift subsequently widened to take in long-running disputes over culture, social issues and legacy.
The current talks process has been characterised as a final opportunity to save the devolved institutions before the UK Government moves to introduce a form of Westminster direct rule.
While the process involves all five main Stormont parties and the UK and Irish governments, the key exchanges are between the DUP and Sinn Fein, as no deal can be struck without their sign-off.
Another round table engagement involving all participants is scheduled for Friday.
Mr Adams insisted Sinn Fein wanted to see devolution return.
"Any powersharing arrangement here has to be truly powersharing," he said.
"It would face big challenges because of Brexit and Tory austerity, but it is still better having local, accountable politicians who you can sack and who you can hold accountable for any decisions that they make.
"But this is the fifth round of talks. There are obviously challenges here for all of us."
Civil servants have been running Stormont's public services during the impasse, however they are hamstrung by their inability to take major policy decisions.
With the pressing need for budget to be struck for the next financial year, if the latest talks bid fails, the UK Government will face mounting pressure to introduce a form of Westminster direct rule to provide financial certainty.