Bennell, 64, will be sentenced on Monday for abusing 12 boys following his latest convictions at Liverpool Crown Court for offences against youth footballers between 1979 and 1991.
But the former Crewe Alexandra coach and Manchester City scout, who has already served three jail terms for similar offences involving 16 other victims, could face further prosecution after an additional 86 complainants came forward to say they too were abused by him.
Bennell has been convicted at Liverpool Crown Court of a total of 43 counts of child sex abuse against 11 victims.
Before the trial started last month, he pleaded guilty to seven counts of indecent assault, including offences involving a 12th boy.
The jury found him guilty of the final three counts of indecent assault on Thursday after deliberating for 21 hours and seven minutes.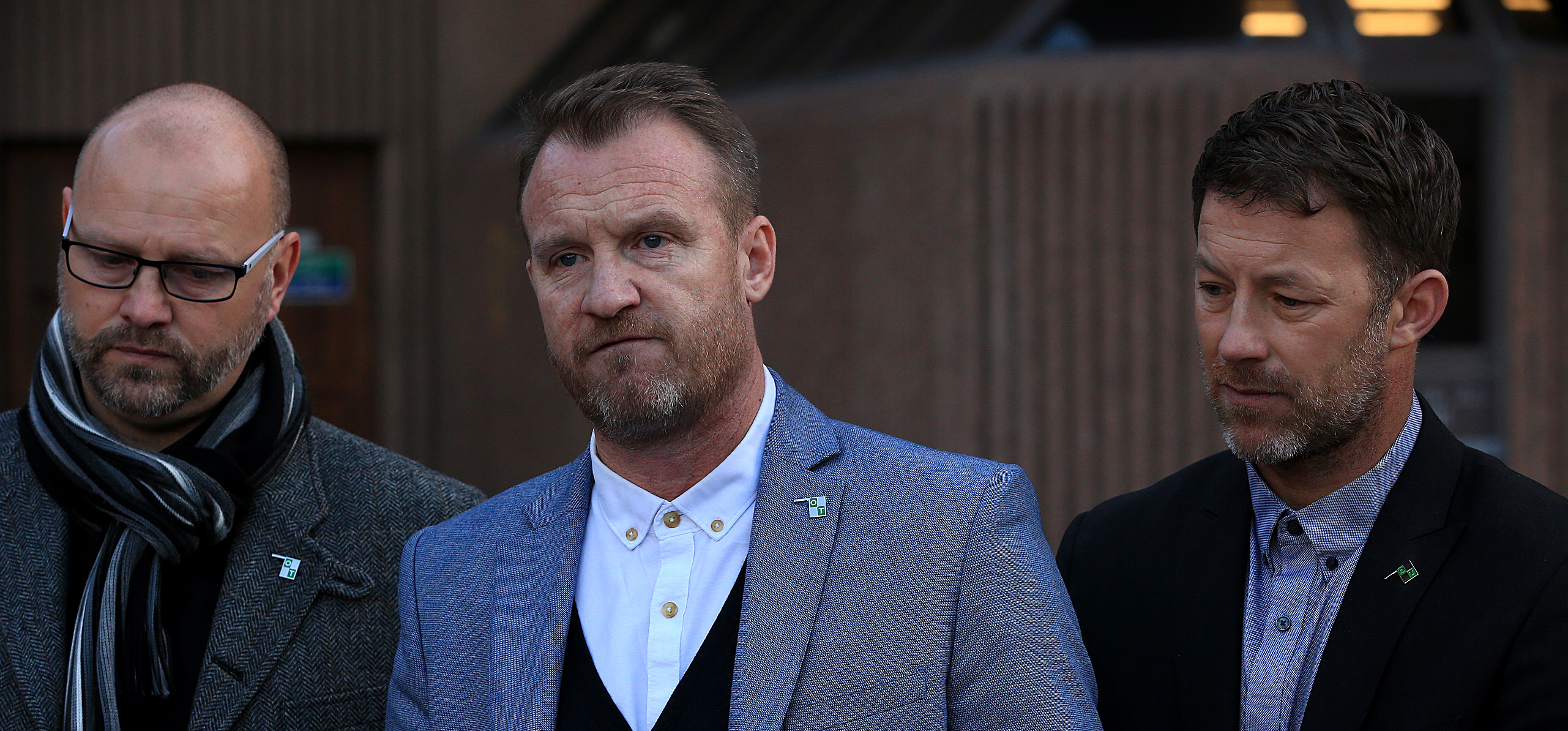 Victims had been forced to describe in court the abuse they had suffered and then lived with so long.
For some people, the emotion was overwhelming and tears began to flow as the trial finally came to an end.
Bennell, who appeared via videolink from prison, could be seen shaking his head at times and muttering when the guilty verdicts were returned.
Outside court, previous victim Andy Woodward, who decision to speak out about Bennell's abuse led to the trial, said he was proud to have helped other victims get the justice they deserved.
He also demanded an apology from Crewe Alexandra.
Another victim, Micky Fallon, said Bennell had preyed on "little boys with a dream".
He also thanked the jurors, adding: "Because of you the stolen voices of a generation have been heard."
Fellow victim Steve Walters, his voice breaking, called Bennell a "disgusting predator" and criticised a "culture of complacency" in football over child protection.
During the course of his trial, Bennell was described as a "child molester on an industrial scale"  who would groom his victims and their families.
Complainants, who had been coached by Bennell as boys, told how he had a "power hold" over them as they dreamed of becoming professional footballers.
He was said to have been treated like "God" at Manchester City's Maine Road ground.
Bennell was compared to the Child Catcher from Chitty Chitty Bang Bang, luring boys to his homes, where he had arcade games and exotic pets including a puma and a monkey.
He also abused them on trips away and in his car while on the way to and from football training.
In his closing speech, Nicholas Johnson QC, prosecuting, said: "We suggest Mr Bennell is a child molester on an industrial scale and that's why he went to these lengths to get so many lads round to his house."
One of Bennell's victims, who he had pleaded guilty to abusing in 1998, said he knew of four men who had been coached by Bennell, including former Wales manager Gary Speed, who had gone on to take their own lives.
But the jury was later told there was no evidence to link their deaths to Bennell.
Bennell, who had part of his tongue removed due to cancer, appeared in court via videolink due to health reasons and declined to give evidence in his own defence.
The court heard transcripts of police interviews in which he admitted having a "grooming process" and being attracted to teenage boys but denied the new allegations and said complainants were "jumping on the bandwagon" following publicity.

His barrister, Eleanor Laws QC, described him as being a "sitting target" after being convicted of child sexual abuse in the 1990s and in 2015.