Police have been notified of alleged criminal damage after Sinn Fein's policing spokesman was filmed apparently using bolt cutters to remove a clamp from his car.
Gerry Kelly removed the device after finding his vehicle had been immobilised while he was at a gym in Belfast city centre on Friday morning, the party said.
The private parking firm that controls the area outside the Metropolitan Arts Centre (MAC) near St Anne's Cathedral reported the matter to police.
A Police Service of Northern Ireland (PSNI) statement said: "Police in north Belfast received a report of criminal damage in the Exchange Street area of Belfast at around 2.20pm, Friday 2 February.
"It is believed that damage was caused to the wheel-clamp of a car."
Traditional Unionist Voice (TUV) leader Jim Allister called for the Northern Ireland Assembly member to resign and the police to take action.
"It must be demonstrated he is not above the law," he said.
A spokesman for parking firm PEA told the Belfast Telegraph: "PEA is aware of this incident and has reported the matter to the PSNI (Police Service Northern Ireland) as we do in all such cases."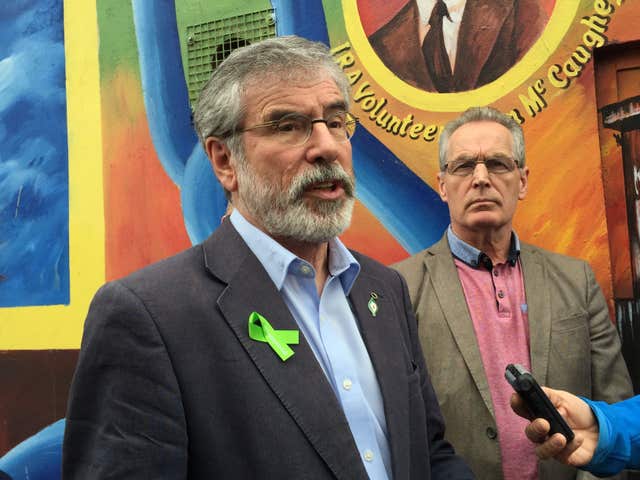 The footage appears to show him kneeling down to remove the orange device from the vehicle's right-hand wheel, before resting it against a nearby wall.
A pair of bolt cutters appear to be lying beside the wheel.
A Sinn Fein spokesman said: "Yesterday, Friday 2 February, Gerry Kelly MLA returned to his car​ after an early morning gym session to find that his car had been made immobile by a clamp just after 7.20am.
"​He removed the clamp from the front wheel. He left the device nearby and drove off to pre-arranged meetings.
"His solicitor is dealing with the matter and he will be making no further comment at this time."
Mr Kelly is Sinn Fein's policing spokesman and has formerly held the position of junior minister at Stormont.
He was part of the party's negotiating team during the years leading up to the Good Friday Agreement and has been MLA for North Belfast since 1998.
During the Troubles the veteran republican was convicted for his part in the IRA bombing of the Old Bailey in 1973.
Ten years later he took part in a mass escape from the Maze paramilitary prison.