Snow will fall in almost every part of the UK over the coming days, forecasters have warned as bad weather brought disruption to south-east England.
Wintry conditions are expected to grip much of the country by Tuesday evening, having already swept across Kent and Essex, the Met Office said.
Weather experts believe it will be one of the coldest weeks of the winter so far – and parts of the UK were blighted by sub-zero temperatures overnight.
Katesbridge, County Down, recorded the coldest conditions of -6C, followed by -5.6C in Altnaharra, northern Scotland, and -5.6C in Redesdale, Northumberland.
Snow and ice warnings have been issued for swathes of the country.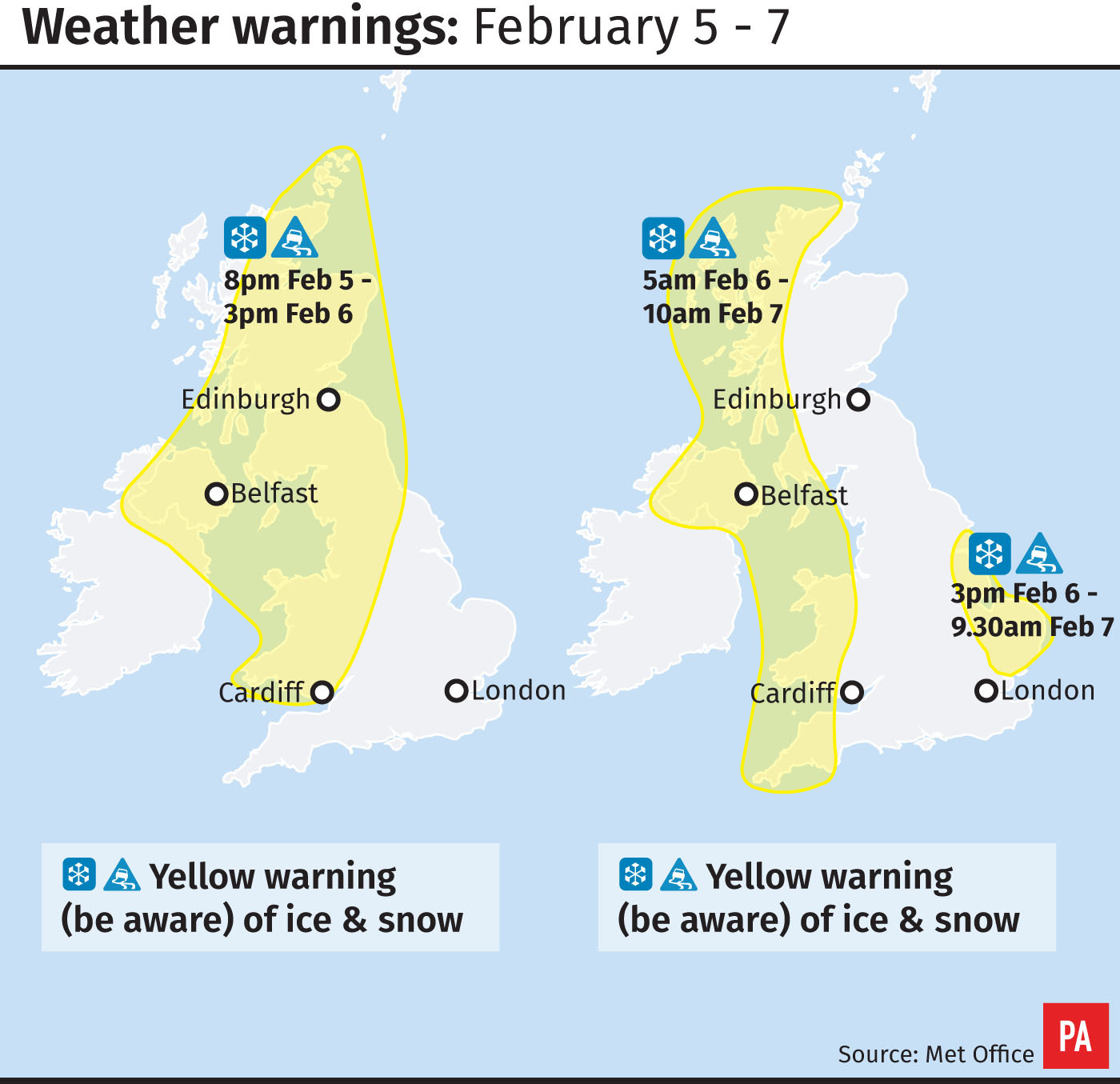 Temperatures will dip further overnight – and could sink as low as -11C in the Scottish Highlands on Wednesday night.
Met Office spokesman Martin Bowles said: "Tonight is going to be very cold, there is a front coming into the North West and because we have got lots of cold air there is going to be lots of snow on it.
"It is reaching north-west Scotland and Northern Ireland this evening and then it will gradually work its way into north Wales and north-west England overnight, including a good chance of some fairly substantial settling of snow in those areas.
"During tomorrow, it will continue to work its way into the South East, but as it does so it will become a much weaker affair so actually pretty much the whole country can expect to get some snow between six o'clock this evening and six o'clock tomorrow."
Kent Police said two crashes took place in the space of one minute on Monday morning, at 8.29am and 8.30am between junctions eight and nine of the M20.
The first saw a car overturn, leaving one person with minor injuries, while across the carriageway a lorry and a van collided, flipping the van and injuring one passenger.
Police said conditions were poor on a wider part of the network.
"Be aware. Extra time. Allow space watch for changing road conditions. If you get stuck stay with your car leave engine running. If you are able, Low gear low revs keep moving," the force tweeted.
Another yellow warning for ice has been issued covering the East Midlands, east and north-east England and Yorkshire and Humber.
Meanwhile another snow and ice weather warning has been issued for Wales, Northern Ireland, most of Scotland and northern England, beginning on Monday night from 8pm and continuing until 3pm on Tuesday.
And Eastern England can also expect disruption after the Met Office issued a yellow severe warning for snow and ice in the region.