The Queen swapped her throne for the front row of London Fashion Week where she sat next to style royalty Anna Wintour.
The Queen, who wore an Angela Kelly tweed dress and jacket in duck egg blue, embellished with tiny aquamarine Swarovski crystals, addressed the fashion crowd before presenting the award.
She said: "It is a great pleasure to be here at London Fashion Week today.
"From the tweed of the Hebrides to Nottingham lace, and of course Carnaby Street, our fashion industry has been renowned for outstanding craftsmanship for many years, and continues to produce world-class textiles and cutting edge, practical designs.
"As a tribute to the industry, and as my legacy to all those who have contributed to British fashion, I would like to present this award for new, young talent.
"I would like to thank the British Fashion Council for selecting the first winner – Richard Quinn."
The Queen sat on the coveted front row – or Frow – in between Vogue editor-in-chief Wintour and Caroline Rush, chief executive of the British Fashion Council (BFC).
Wintour and the Queen chatted before and at times during Quinn's show as models made their way up and down a floral inspired catwalk as loud music played.
The fashion editor, known for her trademark shades, kept her sunglasses on throughout the event.
Ms Rush also spoke from the runway, saying of the Queen: "Throughout your reign you have embraced fashion, using its power of diplomacy to communicate understanding between cultures and nations.
"Having visited the exhibition of your wardrobe at Buckingham Palace, we learnt that you had to challenge some of the norms, some of the dress codes that had been designed for men, making us in awe of how you have reflected the changes in our society.
"As our monarch you have worked with incredible designers, highlighted great crafts associated with our industry such as millinery, textiles and embroidery.
"Your Majesty, I know that you do not wish to be known as a fashion icon, but for all of us in this room, who have the upmost respect for you, and also for the hard work, diligence, cultural impact on our industry, we know that you undoubtedly are."
Award-winner Quinn – who said he would like to design clothes for Meghan Markle – said the experience of having the Queen at his show was "surreal".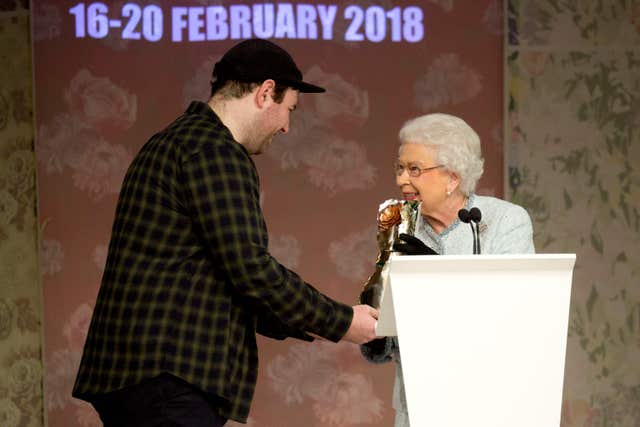 The award, created to recognise the role the fashion industry plays in society and diplomacy, will be awarded annually to an emerging British fashion designer who shows exceptional talent and originality.
Designed by Angela Kelly and inspired by the Queen Elizabeth rose, the award was hand-produced by Lucy Price at Bauhinia Studios in Birmingham's jewellery quarter.
The Queen toured showrooms and met designers before presenting the prize.