Thousands of people have braved rain in central London to demonstrate in support of fixing what they say is a "crisis" in the NHS.
Warren Street was teeming with demonstrators brandishing placards who turned out at nearby Gower Street to line up in large numbers in the wintry conditions.
"Keep your hands off our NHS," they chanted as they began marching at 1pm Saturday.
The demonstration, called "NHS in crisis: Fix it now", was organised by the People's Assembly and Health Campaigns Together.
Among the demonstrators was Jamie, a disability rights advocate who was attending the march in his wheelchair.
He was injured in a serious car crash 21 years ago: "I owe my life to the NHS," he said.
"There is a tragedy unfolding and the fact is that so many desperate people are traumatised, stigmatised and stressed by work capability testing."
Save Lewisham Hospital campaigner Tamsyn Bacchus, who carried a life-size vulture prop hovering over a bloody-painted NHS placard, said she feared the UK could morph the NHS into a US style user-pays health service.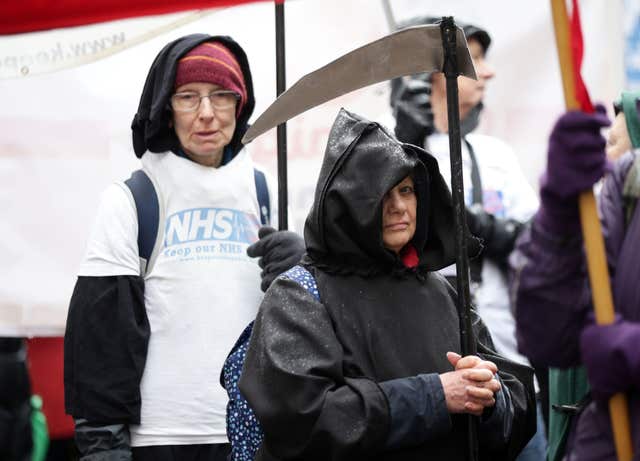 In rallying Britons to attend the demonstration organisers, the People's Assembly said stories of patients dying in hospital corridors and overcrowded waiting rooms revealed a crisis.
"It is time this Government stops blaming patients, nurses, doctors, immigrants, flu and the elderly for their shortcomings."
The demonstration began at Gower Street in Central London at midday, and the crowds began their march to Downing Street at 1pm.
Actor Ralf Little, who is expected to speak at the march this afternoon, has previously told how his mother was saved by NHS treatment for free when she suffered a stroke.
He said: "My mother was rushed to hospital in an ambulance, received expert emergency care, stayed in hospital for two weeks to recover, was treated daily by consultants, physical therapists, occupational therapists and nursing staff, was escorted home in a taxi and checked on three times a day for a further five weeks."
Following a Twitter row with the Health Secretary, Little penned an open letter to Jeremy Hunt inviting him to attend the demonstration.
Shadow health secretary Jon Ashworth planned to be at the protest. He has claimed the NHS was experiencing its worst winter on record, on the service's 70th anniversary year.