The controversial merger of Police Scotland and transport policing north of the border has been delayed indefinitely.
The integration of British Transport Police (BTP) into the national force was due to take place in April 2019.
However Police Scotland said "unresolved issues" meant that the merger cannot be completed by that date "without compromising public safety".
In a letter to Holyrood's Justice Committee, Justice Secretary Michael Matheson said he remained committed to fully implementing the plans.
He said the delay would allow for "enhanced engagement" with officers and staff over issues such as pay and conditions.
Opposition parties – who voted against the merger – said the development underlined ministers' "lack of business case", and called for the plans to be ditched altogether.
Deputy Chief Constable Iain Livingstone said the feasibility of delivering the merger by April 2019 had been assessed over the last few months.
"It has become clear to Police Scotland that there are unresolved issues which mean effective operational integration cannot be achieved by that date without compromising public safety," he said.
"Independent consultants have endorsed our position on this.
"Planning for integration of British Transport Police continues and we will be working closely with BTP, the rail industry and other partners over the coming months to determine a new date."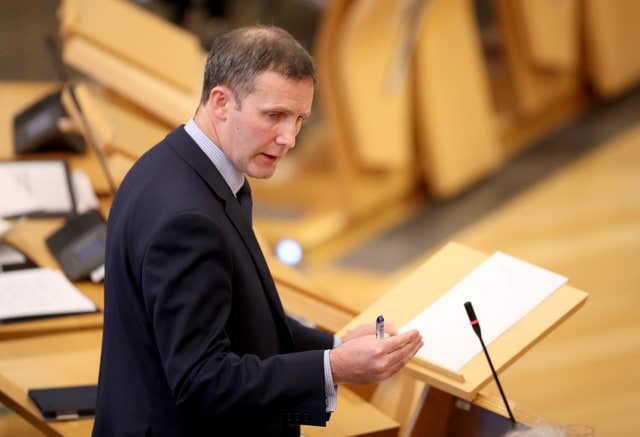 In his letter to the committee, Mr Matheson said a review of progress on "operational matters" had found that "a number of significant issues remained to be resolved".
He said: "A detailed re-planning exercise will now take place over the coming months to ensure robust delivery plans are in place for all of the key elements of the programme and to establish a new delivery date.
"While a later integration date is disappointing, it will provide all partners with the opportunity to enhance the process of engagement, in particular with officers, staff and their representatives on key issues."
Legislation for the merger was narrowly passed at Holyrood last year, with ministers insisting it would make transport policing more accountable.
Critics raised safety concerns, and attacked the Scottish Government for not producing a detailed business case.
Scottish Liberal Democrat justice spokesman Liam McArthur said: "Today's decision underlines the Scottish Government's substandard planning and lack of business case.
"It should also signal a halt to this merger for the foreseeable future."
Scottish Conservative justice spokesman Liam Kerr said: "While this SNP merger may have hit the buffers, it's time it was derailed altogether."
Scottish Labour MSP Daniel Johnson added: "This delay reopens the debate about whether this foolish and misguided merger should go ahead at all given the distinctive nature and requirements of policing our railways."
Manuel Cortes, leader of the TSSA union, said the Scottish Government should cancel the merger plans.
"They got it badly wrong and should now bin their reckless and wrecking proposals," he said.