Three of Barry Bennell's victims faced the media "united in justice" shortly after the last verdicts were reached by jurors to read emotional statements outside court.
Steve Walters, Micky Fallon and Chris Unsworth gave their reactions under the banner of the Offside Trust – an organisation set up by ex-professional players to end abuse in sport and support survivors.
The trust was launched in November 2016 after fellow victim Andy Woodward waived his anonymity to detail his abuse at the hands of Bennell.
Scores of fresh complainants came forward to say they too were abused by the ex-Crewe Alexandra coach and Manchester City scout.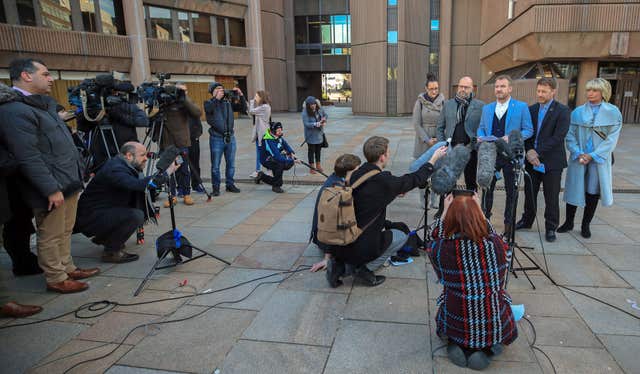 "Our dreams turned into the most horrendous nightmare.
"For decades that nightmare has haunted us. For decades we held our silence just like our abuser told us to.
"For decades we have lived in fear because we may be grown men stood in front of you now but we were once a little child."
He went on: "That fear never ever leaves you, the fear not only of abuse but that you will not be believed if you speak out.
"But today, we faced that fear. We broke the silence and we took back our voice. We looked our abuser in the eye.
"We are no longer afraid of you, Barry Bennell.
"Today justice was done and you no longer have any power over us. You are nothing to us at all."
Former Crewe player Mr Walters accused the sport of football of putting its own needs above those of children.
He said: "We suffered because of a disgusting predator but we also suffered sometimes because the sport we loved decided that the reputation of a coach, club or a sport was put above the protection of children.
"Our abuse is punctuated by the failure of adults to protect innocent children, the failure of adults to act when abuse was reported, the failure to be vigilant and brave.
"We suffered because of a culture of complacency and cover up (which) was allowed to take root.
"We suffered because of an environment where children were terrified to speak out, where children were silenced by the stigma around abuse.
"Today for us is about finally getting justice, we hope it will see this cruel, manipulative man taken off the streets forever, this man who was allowed to roam free and who to this day has denied us the truth."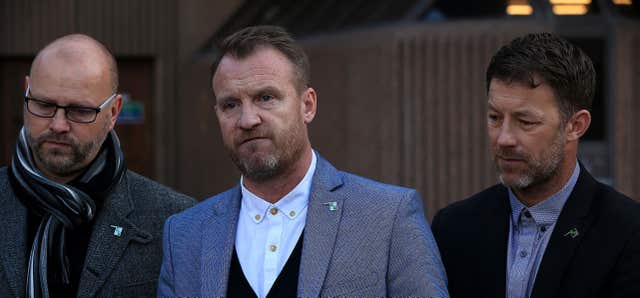 "We stand together and together we have this message to all those who abuse children or turned a blind eye or cover up child sex abuse – your time is up.
"Our case was about abuse that took place decades ago but child sex abuse is happening today and it is destroying lives. Families are wrecked, relationships are poisoned and some wounds can never be healed.
"But from this tragedy there is hope."
He went on: "The healing journey of survivors is a difficult road, but one we no longer walk alone. Thanks to organisations like the Offside Trust, survivors are supported.
"Unspoken truths and frightened whispers have turned into powerful voices.
"Tomorrow is a new day and all of us at the Offside Trust ask you to join us in our efforts to support the healing journey of survivors and make sport a safer place for children."