The Duke and Duchess of Cambridge looked like extras from Bob The Builder when they donned safety gear to help put the finishing touches to a new bridge in Sunderland.
Wearing hard hats, goggles and high visibility jackets, William and Kate tightened a couple of nuts on the £117 million infrastructure project aimed at helping with the regeneration of the city.
As he used a ratchet wrench, the duke joked about doing "the DIY" but unlike the children's character Bob – whose motto is Can we fix it? Yes we can – William later quipped "we'll walk away and the bolt will drop out".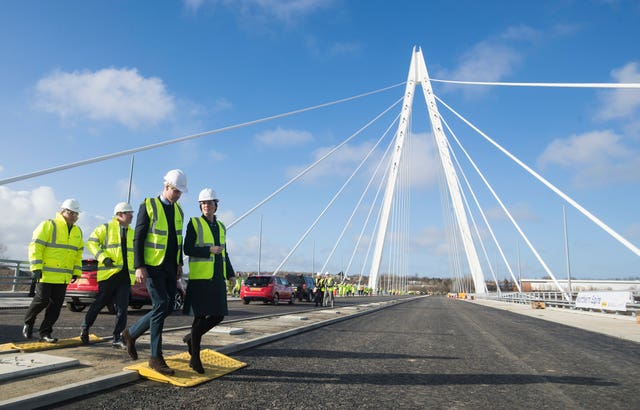 The duchess, who is expecting her third child in April, sat down to have the temporary artwork applied by Shajida Begum, 18, who reportedly said afterwards: "I was just telling her how it works.
"I was telling her when she can wash it off – I said 'when it becomes flaky'."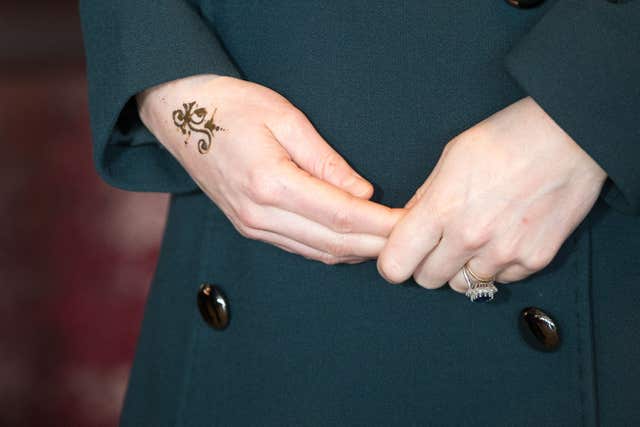 The 1,550-tonne pylon structure is the second part of the Sunderland Strategic Transport Corridor – a five-phase plan to improve links between the A19 and Sunderland city centre and the Port of Sunderland.
The Sunderland City Council project – due to be completed this spring – was built over three years with the Government contributing around two-thirds of its £117 million cost and the council the rest.
The new bridge will help reduce congestion around the city, speed up car journeys and allow land along both sides of the River Wear to be regenerated and developed.
It had been planned for the duke to do the work alone, but the couple changed tact and decided to do it together, with William going first and being encouraged by the duchess who said "well done" and clapped as he finished tightening the bolt holding part of the bridge's parapet barrier in place.
Kate had put her fluorescent bib over her green Dolce & Gabbana coat and Seraphine black and white dress and had tied her hair into a ponytail to wear the safety headgear.
She used two hands to work the wrench and was also given a polite round of applause when she completed the task.
Construction supervisor Peter Smillie, 32, who has overseen the installation of the bridge's parapets, showed William and Kate what to do, he said: "To be part of this project tying up one of our bolts makes them a part of this achievement."