The Duke of Cambridge had the chance to play with some boys' toys as he celebrated British engineering and design – from Triumph motorbikes to a driverless car that had him crying "help".
William indulged his love of all things with four and two wheels during a visit to a leading research facility that has been helping the car industry, transport companies and the military develop and test their vehicles for decades.
The duke followed in the footsteps of actor Steve McQueen when he sat on a Triumph Bobber bike – reminiscent of the Triumph TR6 used by the filmstar in the 1960s' war movie The Great Escape.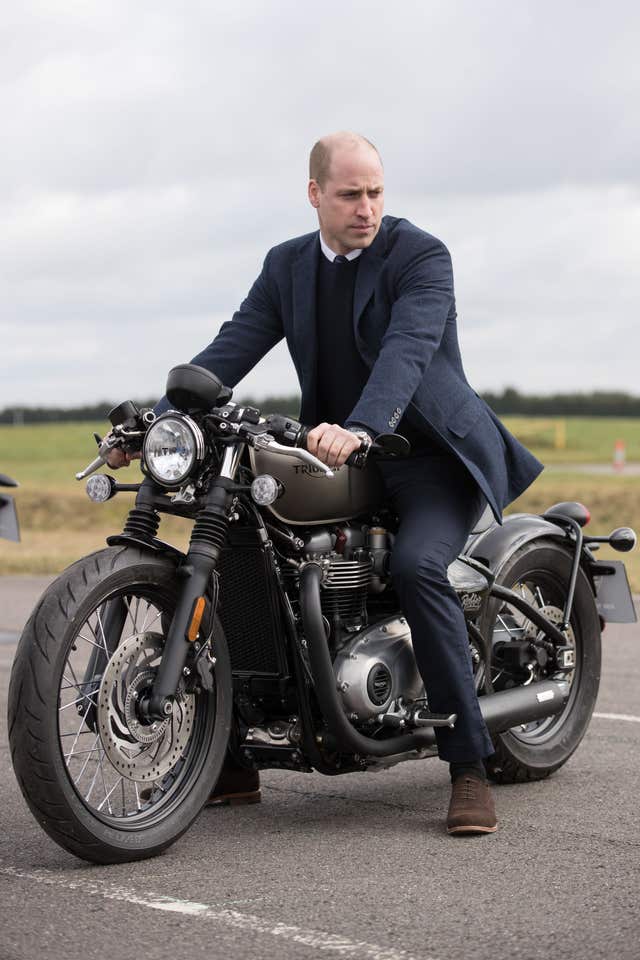 The Bobber bike was part of a huge outdoor display of vehicles, from a Lamborghini supercar to a humble bus and army 4x4s, which have benefited from the engineering and design of Mira technology park in Nuneaton, or manufacturers have used the company's facilities to develop the products.
When it came to trying a driverless car the duke at first shouted "help" in mock horror as engineer John Boffin asked him to press the Ford Mondeo's start button.
Mr Boffin said: "I sat in the driver's seat and folded my arms, I think he said 'help' as a bit of a joke but he did say as we were outside, 'it's strange getting into a car that's going to drive itself'."
William also tried driving an Aston Martin DB7 V8 around a wet skid track used by the makers of the luxury sports car for testing purposes.
First Matt Becker from Aston Martin expertly handled the powerful car, making it power slide around the waterlogged circuit.
When it came to the duke's effort, he spun the DB7 after a few seconds and then drove it gingerly around the track.
Mr Becker said: "He did very well, he got to understand the power – he had a little spin at the start – but I think because he's a helicopter pilot and used to handling an aircraft he had a real feel for what the Aston Martin was doing on the surface."