The number of EU nationals applying for British citizenship more than doubled last year, new figures reveal.
Tens of thousands of people originally from other countries in the bloc have sought naturalisation since the Brexit vote in June 2016.
Home Office statistics show there were 38,528 applications for citizenship from EU nationals in 2017 – compared with 15,460 lodged in the previous year.
EU applicants accounted for more than a quarter (27%) of the total 141,302 applications registered last year – compared with 6% in 2012.
Jonathan Portes, Professor of Economics and Public Policy at King's College London, said: "The continued increase in citizenship applications from EU nationals resident in the UK is likely to reflect their nervousness about their status after Brexit."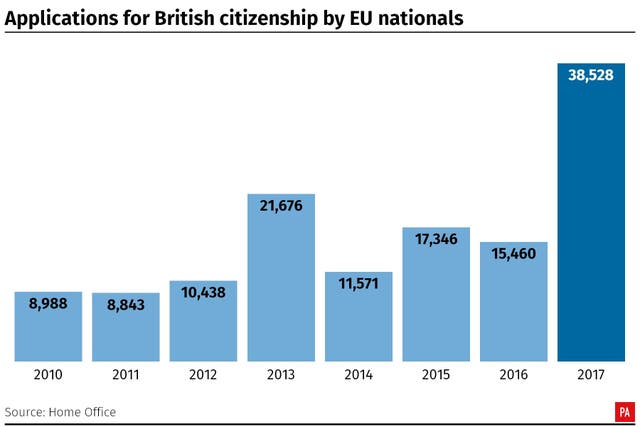 The number of applicants from 14 longer-term member states, including Italy, France and Germany, nearly tripled to 18,781, while just over 6,000 Romanians and Bulgarians applied for citizenship in 2017.
The latest quarterly counts show there were 10,784 applications from EU nationals in the final three months of last year, more than double the 5,112 in the equivalent period of 2016.
The rise in citizenship bids from EU nationals contrasts with the number lodged by applicants from the rest of the world, which fell by 11% year on year to 102,774.
Non-EU applications still made up almost three quarters of the total number registered.
The figures also show the number of EU nationals granted British citizenship in 2017 almost doubled to 31,850.
Those seeking British citizenship by naturalisation are generally required to have lived in the UK for at least five years.
An application costs £1,282 and successful applicants are invited to a citizenship ceremony where they make an oath of allegiance and a pledge to respect the rights, freedoms and laws of the UK.
They are presented with a certificate of British citizenship and a welcome pack.