A fashion exhibition featuring partnerships between some of the Commonwealth's best-known designers and artisan producers has opened to the public.
The one-off designs on display at the Commonwealth Fashion Exchange exhibition at Australia House in London are the result of recent partnerships between designers such as New Zealand's Karen Walker, Bibi Russell from Bangladesh, and Stella McCartney, and traditional handcraft artisans and tradespeople from some of the smaller member countries.
The exchange was celebrated at a Buckingham Palace reception this week hosted by the Duchess of Cambridge and Countess of Wessex alongside guests from the fashion world including Vogue editors Dame Anna Wintour and Edward Enninful and many of the designers and artisans behind the looks.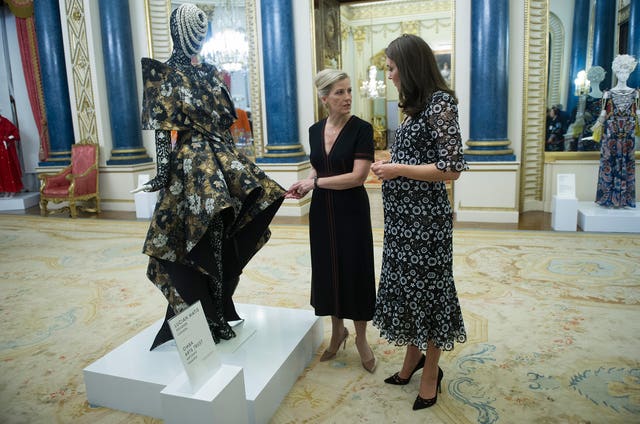 Eco-Age said the initiative aimed to reflect the "common language" of fashion in order to create partnerships and trade links between established and emerging talent from across the Commonwealth.
It said artisan fashion trades were a "logical bedfellow" with sustainability as they were produced by a shorter, local supply chain developed over years and from local materials.
Nadja Swarovski, from crystal brand Swarovski, a partner of the exchange, said: "This ambitious project uses fashion as a common language to showcase the power and potential of designers working with artisans from across the countries of the Commonwealth.
"It is an honour to support Eco-Age on the launch of the Commonwealth Fashion Exchange, an initiative that celebrates creativity, craftsmanship and sustainability."
The exhibition is free and is open to the public until March 6 before it goes on display at the Commonwealth Heads of Government Meeting in London in April.