A police officer accused of assaulting a handcuffed suspect by dropping him face first onto a cell floor has told a jury of his disgust after the arrested man spat in his face.
Pc Paul McVeigh, 48, denies twice attacking Nissan worker Jack Moore, who had been arrested for being drunk and disorderly.
A jury at Teesside Crown Court was shown CCTV footage of Mr Moore being dragged from the back of the police van at Southwick Police Station, Sunderland, and landing on the floor.
They were then shown images of Mr Moore being hauled into a cell and allegedly being thrown onto the cell floor with his hands cuffed behind his back.
He suffered a cut to the chin which required 15 stitches and blood was visible on the cell floor.
The jury was also shown footage of Pc McVeigh with spit in his eye after Mr Moore was arrested and put in the back of the police van following an incident in Washington, Tyne and Wear, on January 26 2017.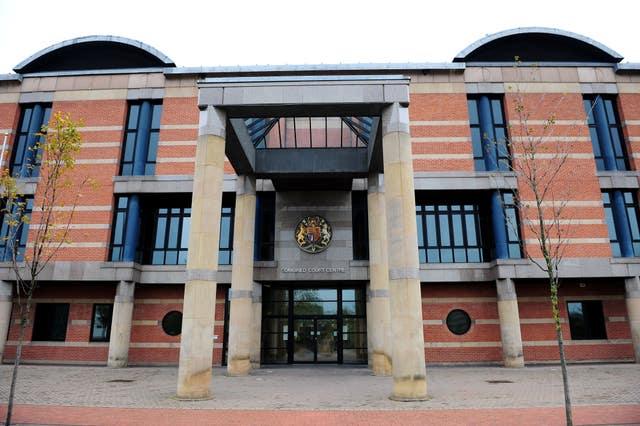 But he said he "dropped his guard" when Mr Moore appeared to comply and the suspect then spat in his face.
"It is big lumps of green snot, it was absolutely horrific," he said.
That incident was filmed on a body-worn camera by colleague Pc Tom Strawbridge who had been called to a house which drunken Mr Moore had refused to leave.
The single-crewed probationer had called for back-up to deal with Mr Moore, who was drunk, swearing and abusive, and Pc McVeigh arrived in a van.
Mr Moore had struggled as the officers handcuffed him behind his back.
Pc McVeigh drove him in the van to Southwick with Pc Strawbridge following in his patrol car.
When they arrived at Southwick Mr Moore continued to be abusive, Pc McVeigh said.
"He said he was going to kill me, to bite me, to bite my nose off. He said he could do what he wanted and was laughing," the officer told the jury.
Pc McVeigh pulled the detainee out of the back of the van by the leg, thinking he might spit again, he said.
The married officer, with almost 26 years' service, told the jury he hurt his back partially carrying the 12-stone suspect through the airlock and into the station.
Asked by his barrister Kevin Baumber if the way Mr Moore was put into the cell was the "ideal execution" of the manoeuvre, he replied: "Absolutely not, I have made a mistake."
But he said it was only after he saw the CCTV he realised there was a problem and at the time he did not think there was an issue.
Earlier, Pc Strawbridge told the court he put out a leg to break Mr Moore's fall from the police van at Southwick when Pc McVeigh pulled him out from the vehicle's caged section by the foot.
And when Mr Moore was brought into the holding cell, Pc Strawbridge said he saw Mr Moore skid 10 inches along the floor after he landed face down.
Pc McVeigh denies assault – in relation to dragging Mr Moore from the van – and assault occasioning actual bodily harm, for allegedly throwing him face first onto the cell floor.
The jury has heard officers were not given spit-hoods to use on suspects.
Mr Moore later admitted charges of drunk and disorderly behaviour and assault in relation to this incident.
He also has a previous conviction for spitting at a police officer.
Mr Moore had not been to work that day but was supping lager with friends in Gateshead and decided to visit a woman in Washington and carried on drinking there.
In a statement he said he had little recollection of the events.