The Conservatives' chairman has downplayed his party's chances in upcoming local elections which are widely being seen as a test of Theresa May's leadership.
Brandon Lewis said the Tories were facing "difficult" council elections in May amid speculation that a poor performance could reignite internal attempts to oust the Prime Minister.
He admitted the Conservatives face a "very challenging dynamic" in London, where a poll has suggested Labour could be heading for the highest vote share of any party in council elections in the capital since 1968.
Mr Lewis's comments may be seen as an attempt to manage expectations ahead of the May 3 polls to protect the party from another bout of damaging infighting.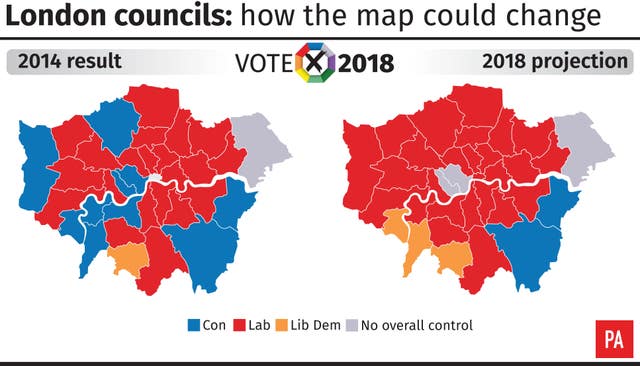 If repeated on polling day when 151 councils across England go to the polls, including all 32 London boroughs, the Tories could forfeit such jewels in their local government crown as Westminster and Wandsworth, as well as Barnet.
Mr Lewis told the House magazine: "These are really difficult elections for us. If you look at the electoral cycle, this is the point of the cycle that's always difficult.
"The last time these were up in 2014, if you look at the numbers, Labour did very well. And obviously London is up and London is a very challenging dynamic for us. We've got work to do in London and elsewhere.
"These are difficult elections and I can't shy away from that.
"But at the same time, we've got to take our case forward and put a strong campaign out there to make sure we do everything we can to give people good local governance with Conservatives and support for candidates around the country to win as many seats as we can.
"We've started to see a real energy and enthusiasm, with volunteers around the country and we're seeing the benefits of that. But there is still work to do."
Mr Lewis also revealed Tory ministers are to visit universities to engage with young people in "Conservative-supporting groups" to support freedom of speech.
Mr Lewis said: "After what happened with that situation with Jacob Rees-Mogg a couple of weeks ago, we can't shy away because some people want to put people off having their say on politics.
"We're going to go out there and have a wider programme of interaction with young people and through universities as well.
"There will be a range of ministers, MPs, myself as chairman, engaging with Conservative-supporting groups in universities more, giving them the support and showing them that we're not going to be scared away by some people thinking they can put people off. We've got to have that freedom of speech."
Mr Lewis also hit out at the social media abuse faced by those with right-wing or right-of-centre political views.
"If somebody on the right or the centre puts out a message, the attack from the hard left is sometimes unbelievably abusive and vitriolic," he said.
"For some people, if they suddenly get attacked by a huge number of hard-left people they've never met, that can put them off."