The Prince of Wales described a children's hospice in South Wales as "remarkable" during a visit to meet children with life-limiting illnesses and their families.
Charles was in good spirits as he toured Ty Hafan in Sully, near Cardiff, chatting, asking questions and sharing a joke with some of the youngsters, who have a range of conditions, and their parents and siblings.
Speaking to Nicola Smith, whose son Lewis, eight, has tuberous sclerosis complex and has been using the hospice for seven years, he said: "I am so glad you have this place; it is remarkable."
The facility, run by one of the UK's leading paediatric palliative care charities, opened in 1999 and has since provided care to more than 600 youngsters from across Wales who are not expected to live to adulthood.
Arriving at the coastal site, Charles was greeted by well-wishers who lined the entrance, many of whom had been waiting in the sunny yet chilly air for some time.
"Have you been standing here long? Bad luck," said Charles, who also shared a laugh with workers dressed in high-vis overalls, who had been carrying out the redevelopment of the hospice gardens, saying: "You are brightening up the day."
Charles, who became patron of the charity in 2001, when he officially opened the hospice's memorial garden, toured the facilities, which have recently undergone a multimillion-pound redevelopment.
He was shown some of the technological advances which have been included in its new building, including a multisensory unit, a large hydrotherapy pool, and an outdoor playground with specially adapted play and therapy equipment.
Charles then met family and supporters, including teacher Rebecca Griffiths, whose 13-year-old son Will has quadriplegic cerebral palsy and suffers severe seizures.
She said Will and his younger brother Osian, nine, looked forward to their Ty Hafan visits, and meeting Charles was "absolutely superb".
Lucy Davies and her son Cameron, 16, a Swansea City fan who has Duchenne muscular dystrophy, and daughter Daisey, nine, also met the Prince.
"It was just surreal, what a lovely man," said Ms Davies.
"He was asking Cameron about what he enjoys doing and that's football.
"Cameron was extremely nervous but he did really well."
Charles also privately met two families using the hospice for end-of-life care during his visit.
Carol, seven, handed the departing Prince of Wales a piece of art, contributed to by a number of the children.
Speaking after the visit, Rob Jones, the charity's chief executive and also the father of Poppy, 12, who has a number of conditions linked to cerebral palsy and uses the service, said Charles's visit was brilliant.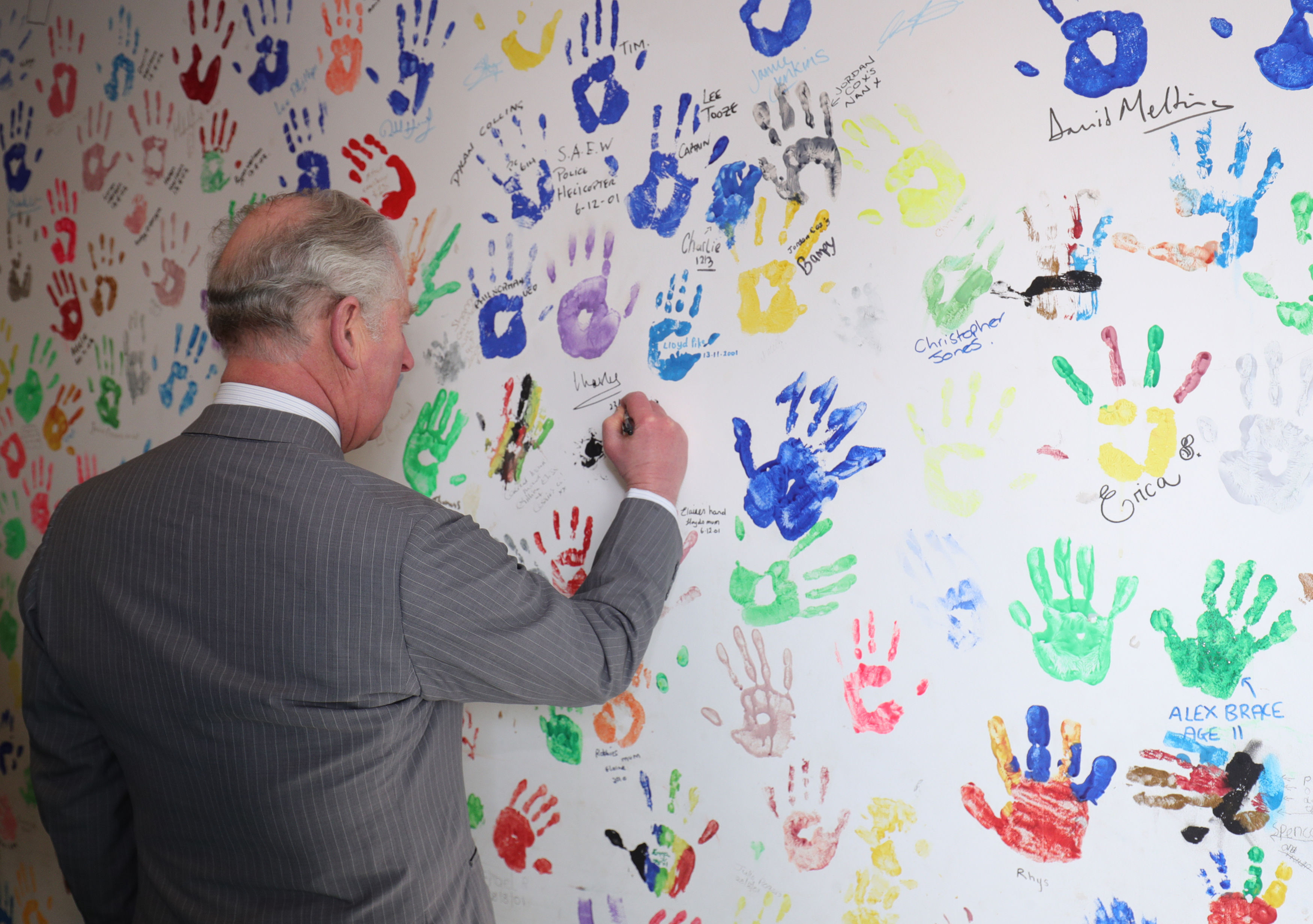 "It is recognition of the work we do and we could not be more delighted."
Mr Jones became involved with Ty Hafan six years ago and he said the charity had made a "huge" difference to him, his wife and children.
Of Poppy, he added: "She was not expected to survive beyond the age of four and we are very fortunate to still have her."
Director of care Carol Killa added: "He really felt how fantastic it was for the families that they have something like this.
"He was in awe of how the families cope on a day-to-day basis and something like this gives them respite."
Later on Friday Charles will officially open the new head office and South Wales airbase of the Wales Air Ambulance Charity, meeting pilots, medical staff, volunteers and supporters in Llanelli.