The Prince of Wales shared jokes with Bonnie Tyler and Max Boyce during a visit to Wales Air Ambulance's new headquarters.
Prince Charles officially opened the site in Llanelli, south Wales, after meeting pilots, staff, volunteers and supporters including the singer and the entertainer.
During his visit, Charles climbed into a helicopter – chatting at length about the charity from the cockpit – and watched a medical team demonstrate a cardiac arrest scenario from the hangar.
He praised the singing of children from the Encore Stage School choir, which has raised thousands of pounds for Wales Air Ambulance since one of its teachers, Rebecca Evans, died in a road collision.
Mrs Evans' son Cian, three, who was airlifted by the charity, presented local honey to Charles alongside transplant patient Curtis Thomson, four.
Charles previously opened the service's first helicopter base, originally at Swansea Airport, when it was established in 2001.
In a speech to staff, volunteers and supporters, he said: "I wanted to say what an enormous pleasure it is to come back and see this remarkable organisation, the air ambulance, after 17 years.
"I remember all those years ago when I arrived they were immediately called out so there was hardly anyone to meet at all."
There were no call-outs on Friday's visit and so Charles was able to meet many members of the service.
He described how there had been "incredible improvements" over the past 17 years, with the charity now providing specialist services for children including the Children's Wales Air Ambulance.
This is a dedicated helicopter for transferring vulnerable babies and children between hospitals and has a specially-built flight incubator.
Charles praised the work of volunteers raising money for the service and said it was "wonderful" to see supporter Mr Boyce again.
"As the father of an ex-air ambulance pilot I have a vague understanding of what you all do and what high professional standards you achieve," Charles added.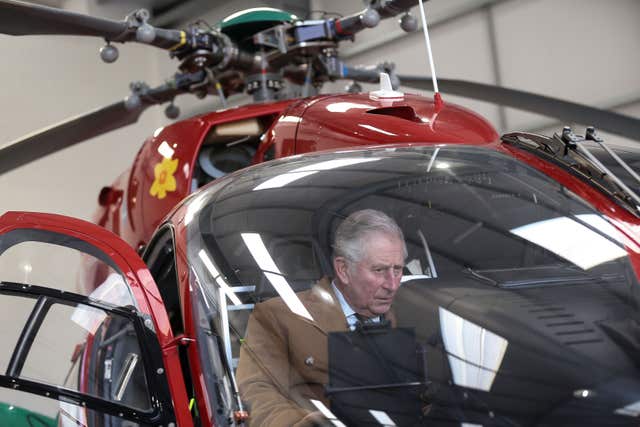 "I have been an active supporter of the charity for so long," Mr Boyce said. "It has caught the imagination of the people of Wales.
"We are so grateful that Prince Charles has given his royal approval today."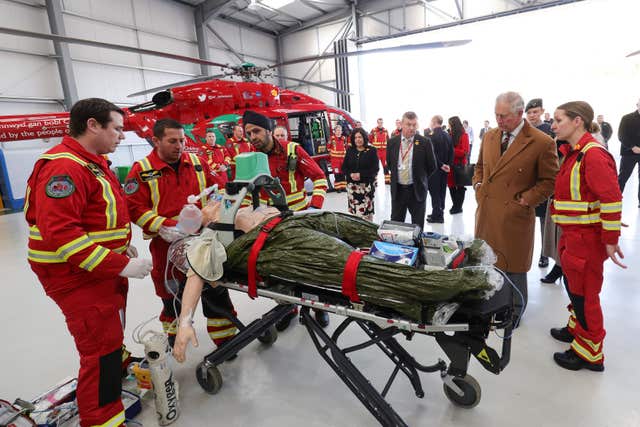 In 2016, it moved its South Wales operation and charity headquarters to the site in Llanelli, which is the charity's first owned and custom-built property.
Charles climbed into a H145 helicopter at the site's hangar – the same type piloted by the Duke of Cambridge during his time at the East Anglian Air Ambulance.
Mr Boyce joked to Charles: "That's one for us", to which the prince replied: "Oh yes".
He told volunteers they were "setting such a remarkable example" and thanked them for their "time and devotion".