The "Beast from the East" may put additional strain on an already "grave" situation in the NHS, senior medics have warned.
The Society for Acute Medicine, which represents hospital specialists in acute medicine, said it had "great concern" for the NHS in the week ahead as snowy conditions grip the country.
Dr Nick Scriven, president of the Society, said: "The onset of a spell of extremely cold weather is of great concern for acute medical units who are already struggling with the widely reported stresses of this winter.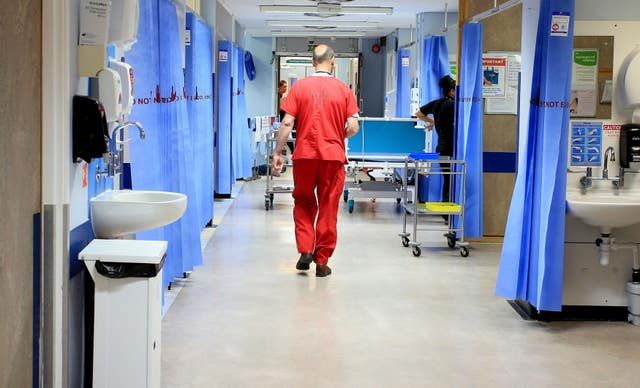 "Last week's performance figures showed an 11% rise on the previous week in influenza admissions, along with sustained dangerously high bed occupancy rates, so the situation is grave."
Drawing on figures from NHS Improvement, which showed a large deficit and high job vacancy rates in the health service, he added: "There is little on the horizon in the way of optimism for the future state of the acute services given the massive staffing issues and strain on resources made evident this last week.
"So far this winter we have seen the NHS survive on the goodwill and effort of hard-pressed staff of all levels who have gone the extra mile to ensure safe and high-quality treatment in the most difficult of circumstances.
"However, the challenges keep increasing and this week is another example of how the authorities simply cannot gamble on hard-working staff saving the day – it is not sustainable or fair and will be the downfall of our health service."
Meanwhile, Public Health England (PHE) repeated health warnings about the cold weather.
Dr Thomas Waite of PHE's extreme events team said: "With many places facing severe weather it's really important people do what they need to, to stay warm – especially with the cold forecast to stay for several days.
"Heating homes to at least 18C will help keep you healthy. Also, make sure you eat warm food, move about at home and wear several thin layers instead of fewer thicker ones.
"Those of us who are fit and well can also do lots to help others – and with weather like this, some will need help.
"If you're able to, consider clearing snow or ice from pavements and paths, see if friends, family or neighbours who are left housebound by the weather need anything fetching and if you know anyone over 65, or with young children or with heart or lung conditions check to see if they're OK.
"Cold temperatures inside and out can make you ill and can even kill. Prolonged cold weather like this can be a challenge to all of us; remember that staying warm helps keep you healthy."