Sky shares have surged after US media giant Comcast lined up a showdown with 21st Century Fox by mounting a £22.1 billion takeover approach for the UK broadcaster.
The cable network powerhouse sent Sky rallying 20% higher on the London Stock Exchange after it muscled in on Rupert Murdoch's bid with a 16% higher offer of £12.50 per share.
The owner of NBC and Universal Pictures wants to seize more than 50% of Sky in a move that could disrupt Walt Disney's 66 billion US dollar (£47 billion) attempt to buy Fox's entertainment assets, which include a stake in the satellite broadcaster.
It also threatens to drag the Murdoch family into a full-blown takeover tussle, adding to the media mogul's frustrations after seeing Fox struggle to buy the 61% of Sky it does not already own due to regulatory hurdles.
Comcast, which owns cable channels MSNBC and CNBC, believes its approach would escape concerns over media plurality because of its "minimal presence" in UK media.
Brian Roberts, Comcast chairman and chief executive, said the swoop would hand America's biggest cable operator a platform for expanding into Europe.
He said: "We would like to own the whole of Sky and we will be looking to acquire over 50% of the Sky shares.
"We are confident that we will be able to receive the necessary regulatory approvals. If successful, the acquisition will enhance our free cashflow per share in the first year.
"We hold the management of Sky in high regard and would welcome the opportunity to meet with them and the independent directors of Sky to discuss our plans for the business, particularly with respect to maintaining Sky's strong platform in the UK.
"In due course, we very much hope that the independent directors will recommend our proposal."
Comcast's proposed cash offer is a 13% premium of Sky's closing share price of £11.05 on Monday, and higher than Fox's bid of £10.75 a share.
The group, which has a broadband arm serving 29 million US customers, said international revenues would climb from 9% to 25% if the deal goes ahead.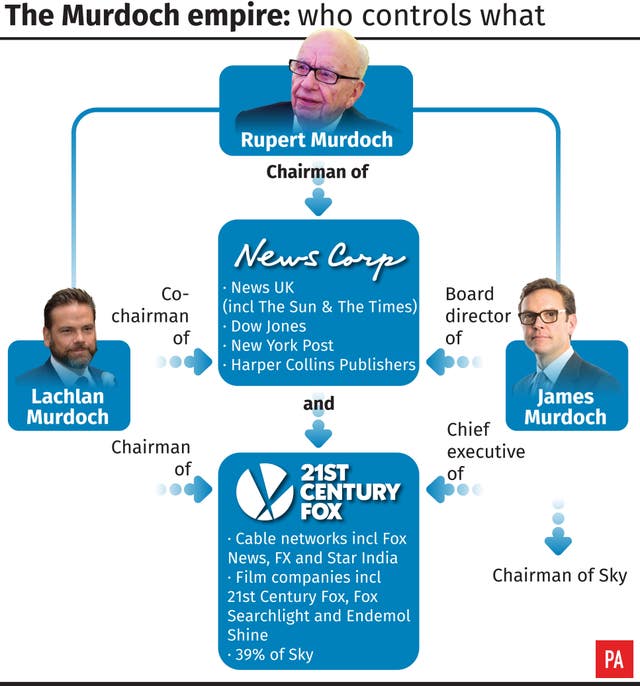 The Competition and Markets Authority had suggested ways Fox could address its concerns, including spinning off Sky News, or "behavioural" changes to protect the media organisation from the direct influence of the Murdoch Family Trust.
Fox has offered to shield Sky News from Mr Murdoch and guarantee the existence of the news service for at least 10 years as part of a series of so-called "firewall remedies".
The CMA has until May 1 before sending its final report on the Fox bid to Culture Secretary Matt Hancock, who will then have 30 working days to make a final decision.
Shadow digital, culture, media and sport secretary Tom Watson said: "The UK's media plurality and Sky's high broadcasting standards are at stake in this bidding process.
"Comcast must demonstrate its commitment to plurality by guaranteeing a properly funded Sky News for at least a decade as a key condition of the sale."
A spokesman for Sky said no firm offer had been made and it advised shareholders to take no action.