Heavy snow and sub-zero conditions have blighted Britain's roads, railways and airports, with delays and cancellations.
Hundreds of schools across the country were closed for a second day on Wednesday.
Emergency services reported rescuing stranded vehicles and dealing with crashes as several more centimetres of snow fell overnight and temperatures plummeted to minus 11C (12.2F) in parts.
Three people were killed in a crash in Lincolnshire and a man died after a collision in Cambridgeshire on Tuesday morning.
There were several road accidents on Tuesday night and in the early hours of Wednesday, Highways England said, including a crash between a car and motorcycle on the M3 in Surrey in which one person was seriously injured.
Fire crews had to pull a trapped man from a vehicle following an early-morning crash between two cars and a lorry near Williton, Somerset, on Wednesday, Devon and Somerset Fire service said.
Several lorries became stuck in snow drifts and jack-knifed on roads, including on the A1 in Cambridgeshire and the A66 in Cumbria, leading to long delays and rescue efforts.
A number of roads have been cleared and reopened, including the A59 in North Yorkshire between Harrogate and Skipton and the A282 in Dartford after crews removed a stranded lorry, Highways England said.
In Leicestershire, motorists were advised to avoid the A1 between the A1139 and the A6121 as police removed cars that became stuck overnight.
Arriva Trains Wales said customers should expect "heavy delays and cancellations" on long-distance routes owing to "urgent safety checks", though it is unclear if this is due to adverse weather.
However, Great Northern is "currently expecting to run a normal train service", according to the National Rail Enquiries website.
Commuters are urged to check their routes before travelling.
Farnborough in Hampshire recorded a low of minus 11C (12.2F), but for most places the mercury hovered at between minus 4C (24.8F) and minus 7C (19.4F).
Forecasters predict the snow and freezing temperatures will continue, prompting the Met Office to extend some of its weather warnings.
An amber warning for much of the North of England and Scotland is in place until 6pm, while another covering London, the East Midlands and the East of England is in force until 10am.
A yellow warning covering vast swathes of the UK runs until just before midnight.
Glasgow and Newcastle Airports said teams were busy clearing the runways to keep schedules running on time, and advised passengers to check the latest flight information.
Heathrow and Southend Airports in London said it would largely be business as usual, though British Airways said the weather was likely to continue disrupting flights throughout the week.
Heathrow will proactively reduce flight schedules "for several hours during the worst of the weather" on Wednesday, while flights for later in the week are "under regular review".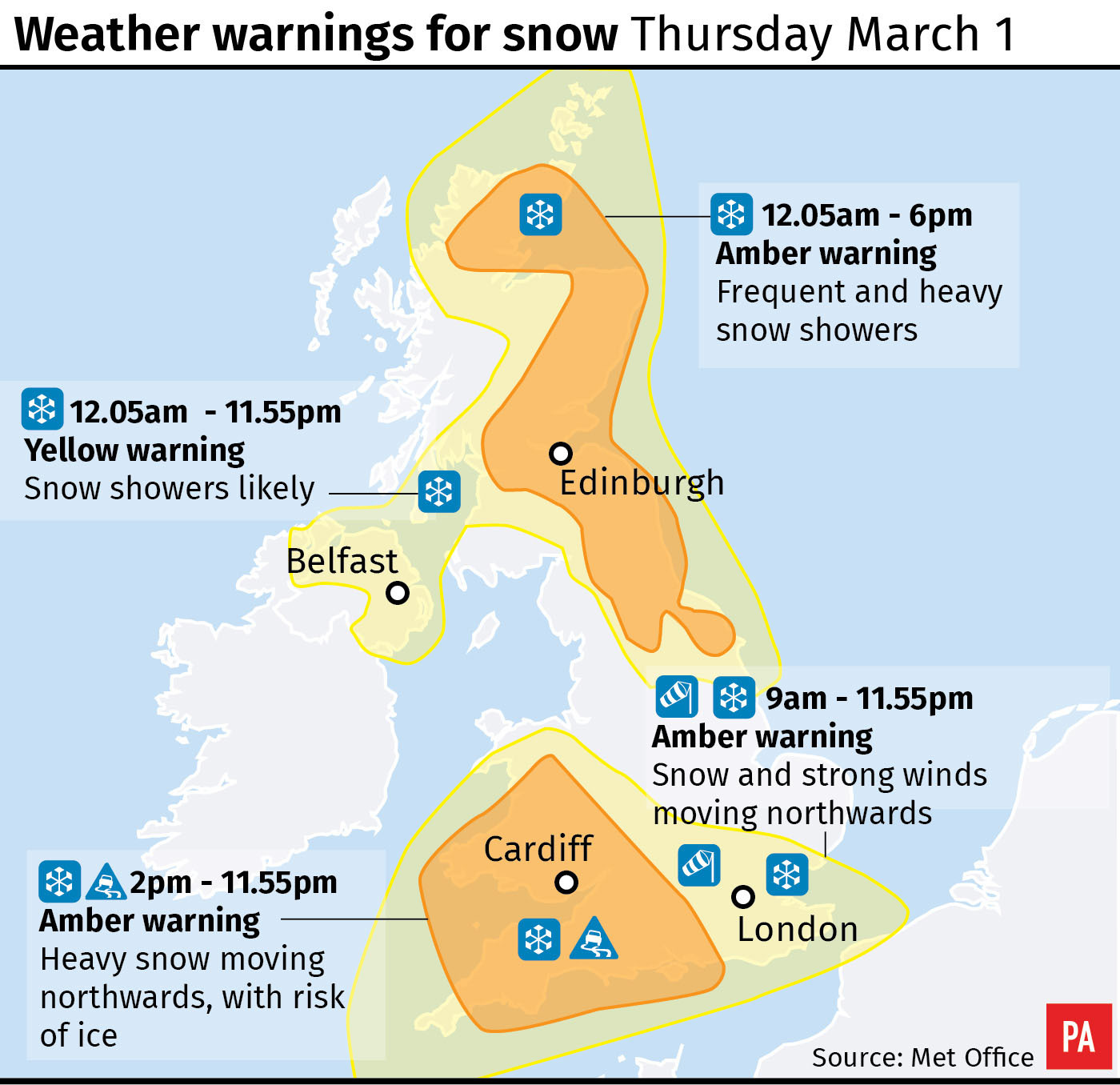 Rural communities could be cut off for several days, while power cuts and mobile phone network interruptions may occur, the Met Office said.
From Thursday, forecasters predict that another weather system, Storm Emma, will bring blizzards, gales and sleet as it meets the chilly "Beast from the East" later this week.