Meghan Markle has spoken passionately about starting her life as a working royal, saying she wants to "hit the ground running" when she marries Prince Harry in a few months.
Ms Markle's comments came when she joined her fiance and the Duke and Duchess of Cambridge at a forum staged to celebrate the work of the Royal Foundation, which the US actress will officially join following her May wedding.
During the event staged in central London, Harry described his bride-to-be as a welcome addition, saying it was positive they now had "four different personalities" with the "same passion to want to make a difference".
Under the theme Making A Difference Together, the event in central London showcased programmes run or initiated by the Royal Foundation such as the Heads Together mental health campaign, the Invictus Games for wounded and injured military and veterans, and the United For Wildlife initiative.
During a question and answer session, Ms Markle said she had "just been here for three months", but added: "With that said, for me it's very important to want to hit the ground running.
"Even if it's doing it quietly behind the scenes, which is what I've focused my energy on thus far … meeting with the right people, meeting with the organisations behind the scenes quietly, learning as much as I can so I can maximise the opportunity we have here to really make an impact."
The actress is committed to gender equality and empowering women through her work as a women's advocate for the UN.
In 2015, the then UN secretary general Bahn-Ki Moon joined a standing ovation for Ms Markle after she made a speech on International Women's Day as UN Women's Advocate for Women's Leadership & Political Participation.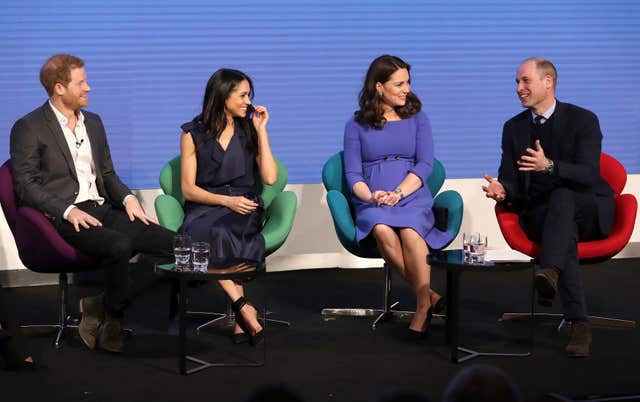 "So, yeah… I guess we wait a couple of months and we can hit the ground running."
The Forum was hosted by BBC presenter and Radio 1 newsreader Tina Daheley who asked Ms Markle for her thoughts on the Royal Foundation.
She replied: "To see the model of the foundation is really interesting because, while I've worked with larger NGOs, I've also worked with really small grassroots organisations where you can see a higher level of impact in my opinion, because there's a lot less red tape.
"What you are seeing here and what I noticed with Heads Together from a global perspective, because I wasn't here obviously when it was happening, was the power of convening all of these small organisations who have this same issue but need that extra push and support under this umbrella, you are able to achieve that."
Harry said that having Meghan join the Royal Foundation would be a much welcome addition, adding: "I think it's really good we've got four different personalities, we've all got that same passion to want to make a difference, but different opinions.
"And I think those opinions work really really well. Working as family does have its challenges of course it does… the fact everyone is laughing means you know exactly (what I mean) – but we're stuck together for the rest of our lives."