People have been told to avoid travelling after the highest level of alert was issued for heavy snow in parts of Scotland.
The Met Office warning covered most of the country including central Scotland, Tayside and Fife, south west Scotland, the Lothians and Borders and Strathclyde areas.
It means extreme conditions are expected in those areas between 3pm on Wednesday and 10am on Thursday.
It is the first red alert for snow in Scotland since a new warning system came into place in 2011.
The definition of a red warning is "you should take action now to keep yourself and others safe from the impact of the weather" and it cautions that widespread damage, disruption and risk to life is likely.
Transport Minister Humza Yousaf said people should avoid travel unless essential and warned the weather is due to worsen.
"So it just re-emphasises that message that people should ask themselves the question 'is this journey absolutely and utterly essential?' – if not, do not travel."
He said people should consider leaving work early if they are able to do so because of the red
warning.
He added: "Progressively the day is going to become worse with the weather challenges particularly from 3pm onwards so it is only going to get worse."
Chief Superintendent Stewart Carle, head of road policing at Police Scotland, said: "The Met Office has now increased the weather warning to red, the first time this has occurred for snow storms.
"We can't stress enough that all travel should be avoided unless it's essential being absolutely necessary and extremely important."
The warnings come as hundreds of schools across Scotland were closed and there was severe disruption on the road and rail network as a result of heavy snow in large parts of Scotland on Wednesday.
A number of councils, including Glasgow, East Dunbartonshire, West Dunbartonshire, Inverclyde, Midlothian, Falkirk, North Lanarkshire, South Lanarkshire and Clackmannanshire have already announced that their schools will be closed on Thursday.
In addition to schools, some universities and nurseries have also been forced to close.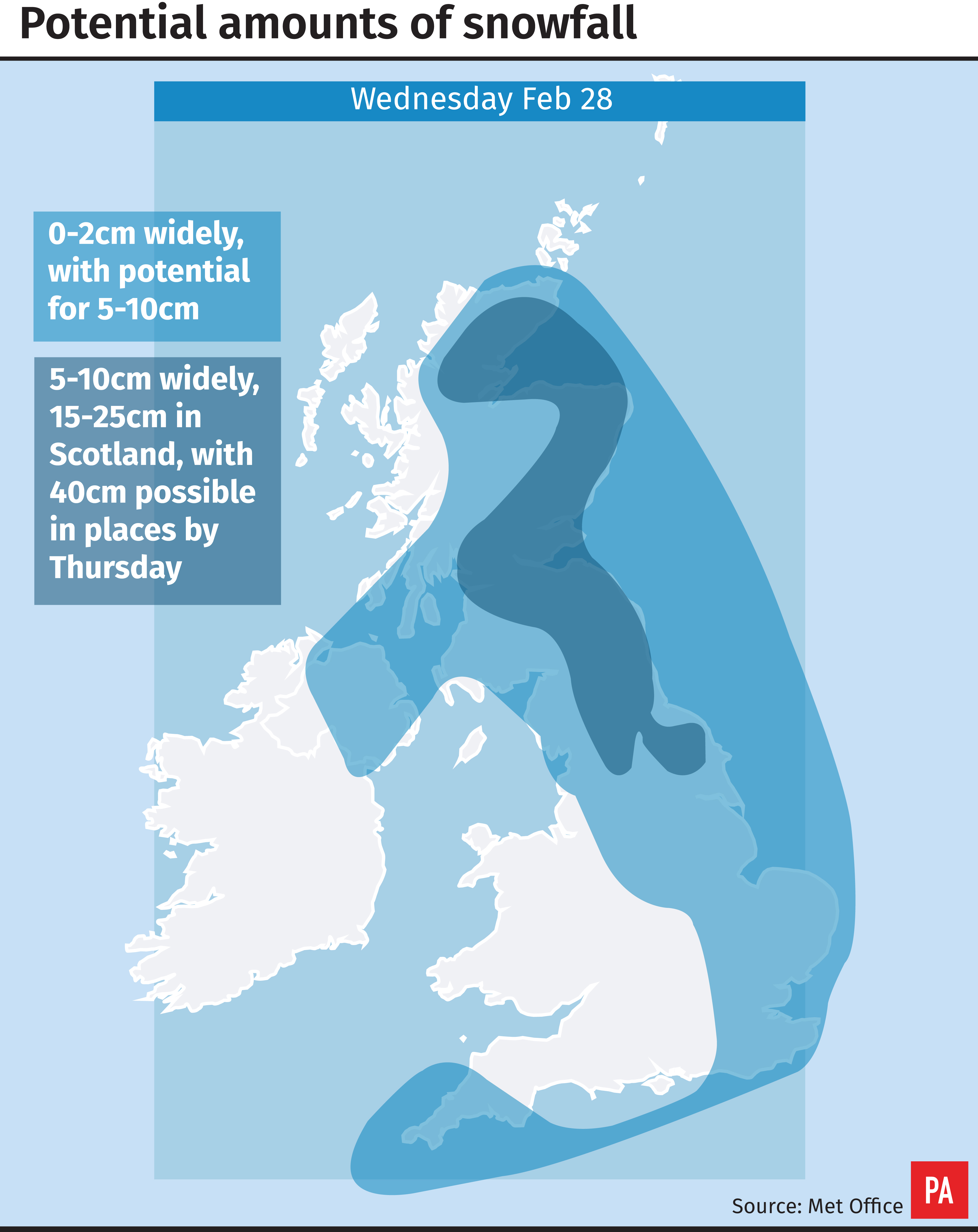 Other rail routes between England and Scotland are also "severely disrupted".
ScotRail tweeted: "As a result of the Met Office warning, services in the red area will begin to wind down this afternoon in the best interests of our customers and staff. Safety is central to this decision.
"In areas where the red weather warning applies, customers should head for home now. There will be no train services in the red weather warning area tonight, or first thing tomorrow morning."
Traffic Scotland reported snow gate closures at the A93 and the A939 and accidents on major routes such as the A1, A74(M), M80 and M8.
Stein Connelly, of Transport Scotland, told BBC Radio Scotland: "We're seeing significant weather disruption on the network, we've got all our gritters out and ploughs working right throughout the day, right throughout the night, but we're still seeing significant challenges."
The weather also affected flights, with Glasgow Airport suspending all services until lunchtime. The runway has now reopened.
Edinburgh Airport said it is expecting disruption to services on Wednesday afternoon.
The SPFL announced that Wednesday night's games in the Ladbrokes Premiership – Celtic v Dundee, Hibernian v Hamilton Academical, Motherwell v Aberdeen – have been posponed.
Of the red warning, the Met Office stated: "Heavy snow showers and drifting of lying snow in the strong easterly winds will become more widespread across the area later on Wednesday afternoon, through the evening and overnight into Thursday.
"Roads will become blocked by deep snow, with many stranded vehicles and passengers. Long delays and cancellations on bus, rail and air travel are expected. Some communities could become cut off for several days. Long interruptions to power supplies and other services."
Forecasters warned that lying snow could reach 20-30cm and possibly 40cm in a few places by mid morning on Thursday.
In addition to the red warning areas, lesser Met Office warnings for snow are covering many other parts of Scotland.
This is the first red alert for snow in Scotland under the new warning system. There have been red warnings for wind and rain north of the border before, the Met Office confirmed.
There has only been one other red snow warning before in the UK, for south Wales in 2013.
This is only the ninth red warning issued in the UK since 2011 for any kind of weather.