A woman who has accused two Irish rugby players of rape was branded a "silly girl" who was "causing trouble for the lads" in messages exchanged among their friends, a court has heard.
A series of text and WhatsApp communications were read into the record at Belfast Crown Court, where Paddy Jackson and Stuart Olding are standing trial.
Prosecutor Toby Hedworth QC said the messages formed part of a timeline of agreed facts.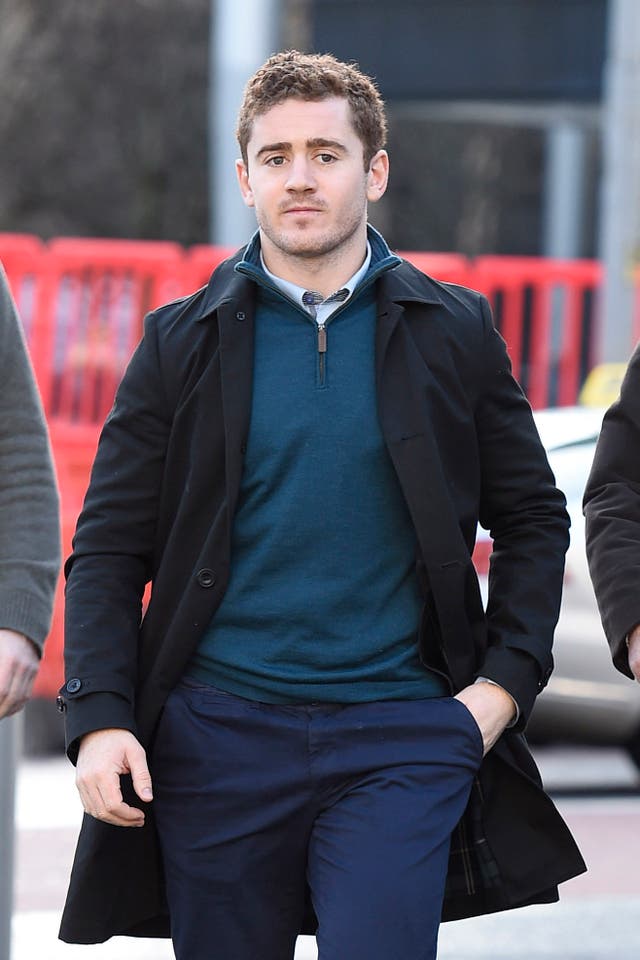 He said: "Hopefully it's just thrown out. Just a silly girl who's done something then regretted it.
"Yeah, surely it will be.
"I know but she's causing so much trouble for the lads.
"Yeah mate, if that got out like. The other thing is the cops went straight to Les Kiss (the then Ulster Rugby coach) which is f****** ridiculous."
Blane McIlroy, who denies one count of exposure, said: "Yeah, surely the cops can't disclose that to Les Kiss."
Harrison said: "There could be a law suit in that if it just dismissed. Although you are drawing attention to it, I suppose."
Another message, the court heard, revealed: "When Les rang Jacko, Bryn (Cunningham, Ulster Rugby operations director) called Stu. Just go straight to the station."
Jackson, 26, from Oakleigh Park in Belfast, and Olding, 24, from Ardenlee Street in the city, deny raping the same woman at a house in south Belfast in June 2016.
Jackson denies a further charge of sexual assault.
McIlroy, 26, from Royal Lodge Road in Belfast, denies one count of exposure, while Harrison, 25, from Manse Road in Belfast, denies perverting the course of justice and withholding information.
The alleged rape is claimed to have taken place during an after-party at Jackson's home in the early hours of June 28 2016.
Separate messages exchanged between the complainant and her friends were also read to the court.
When asked if she told her alleged attackers to stop, she wrote: "Of course I did but they were too strong."
Meanwhile, the trial also heard evidence from the detective who had been in charge of the day-to-day running of the investigation.
The officer was questioned about an ABE (achieving best evidence) carried out with the complainant.
She was pressed to explain perceived delays in the taking of a second ABE interview after the woman told police she had omitted to say that another girl had walked into the room during the alleged rape.
The woman had been "emotional" having already conducted a lengthy ABE interview, the detective constable said.
"I felt giving her some time was achieving best evidence."
Brendan Kelly QC, representing Jackson, suggested the disclosure of a potential witness had been "quite significant".
"Yes," the officer agreed.
However, the detective, who is attached to the PSNI's rape crime unit, rejected defence suggestions that police "did nothing" to try to identify the potential witness.
She said: "It was not a case of doing nothing. The three girls that were there (at the party) were identified and statements were taken."
Adjourning the case until Thursday, Judge Patricia Smyth repeated warnings for jurors not to discuss the evidence in the trial.
She said: "You have been a wonderful jury.
"Even if it is tempting, do not discuss it.
"It is your view that counts, no-one else's."