A third of tiger conservation areas surveyed by wildlife experts are at risk of losing the endangered cats, WWF has warned.
An assessment of 112 protected sites across 11 countries found 35% of them, the majority of which are in southeast Asia, had major management issues which left their tiger populations at risk of rapid declines or vanishing entirely.
The findings have prompted calls from conservationists for better management of and more funds for protected areas that are home to tigers.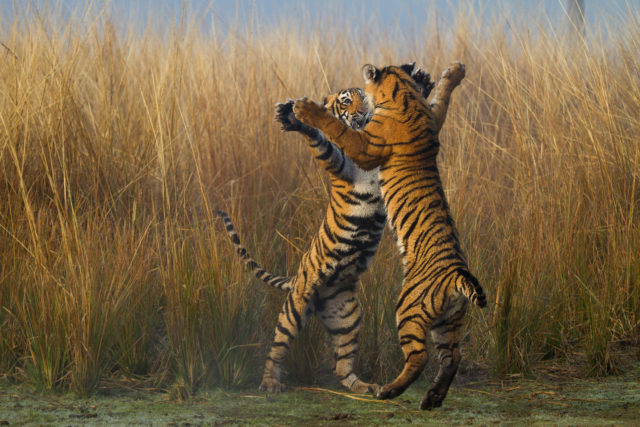 The survey by WWF and partners includes places that are home to 70% of the world's wild tigers and found that only 13% of them were meeting global standards of tiger conservation.
Enforcement against poaching and relations with local communities were among the weakest elements of management, it found.
Despite poaching being one of the biggest threats faced by the big cats, 85% of the areas surveyed do not have staff capacity to patrol sites effectively.
John Barker, head of India and China programmes at WWF said: "It's clear that many protected areas are not living up to their name.
"Far from being a safe haven for tigers, there is a real risk that they will be lost forever from a huge number of sites.
"With only around 3,890 tigers left in the wild, every population of this iconic species is critical."
He added:  "To save these majestic cats from disappearing, governments of tiger range countries must commit more money to the protection of the places where they live to ensure that people and tigers can thrive together.
"Good management in tiger conservation areas is the single most important action to halt and reverse decline of wild tigers."